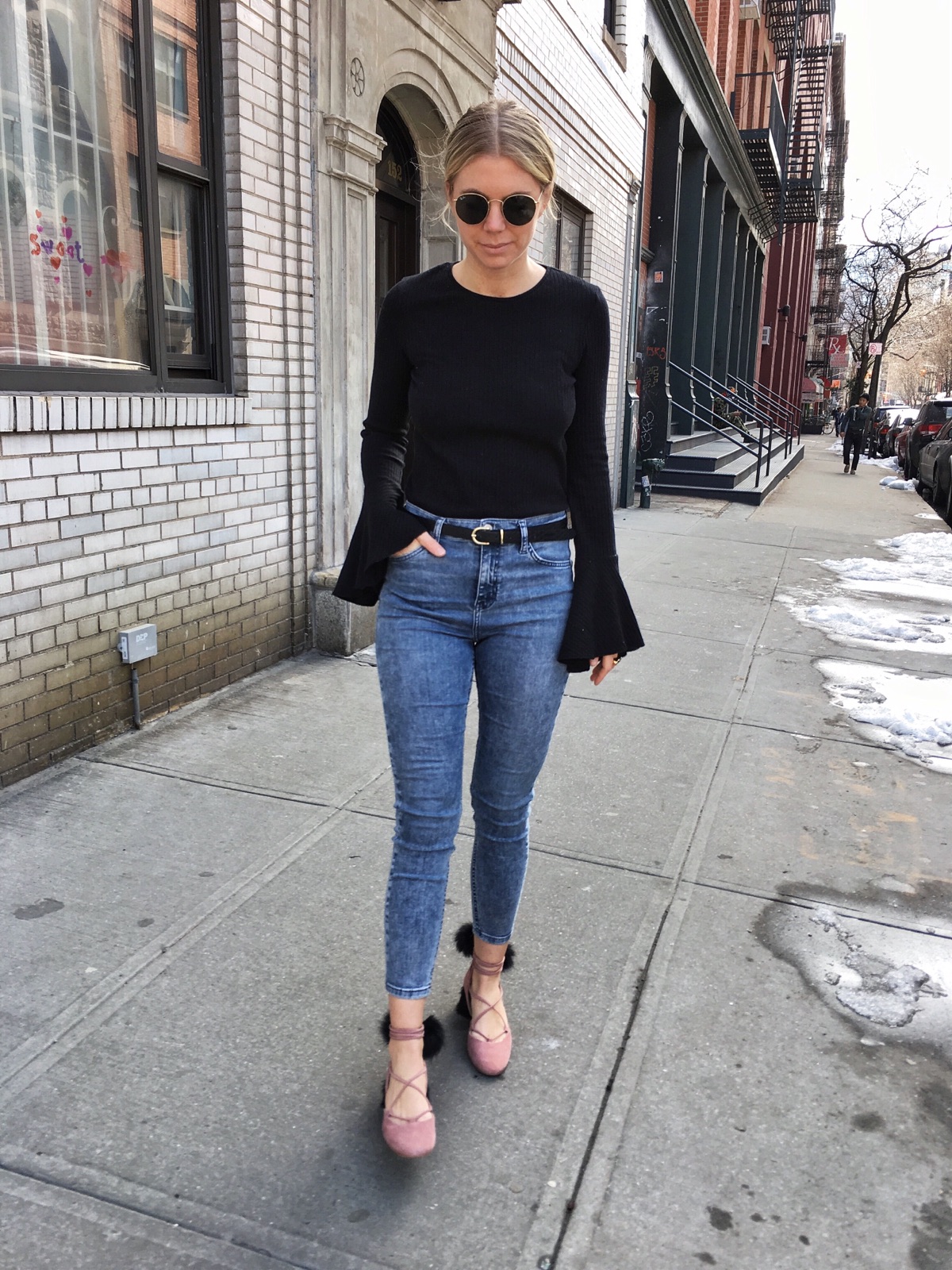 I know I said "favorite" blog posts were far from my favorite but I'm having a change of heart as I find them much more efficient than posting pictures of the same outfit 5 times in one blog post, (there's nothing wrong with that by the way). Just when I think I'm running out of outfits, I find some way to make it work and create new looks and that's exactly what happened this month. So, I really wanted to share what I did and how you can recreate a similar look.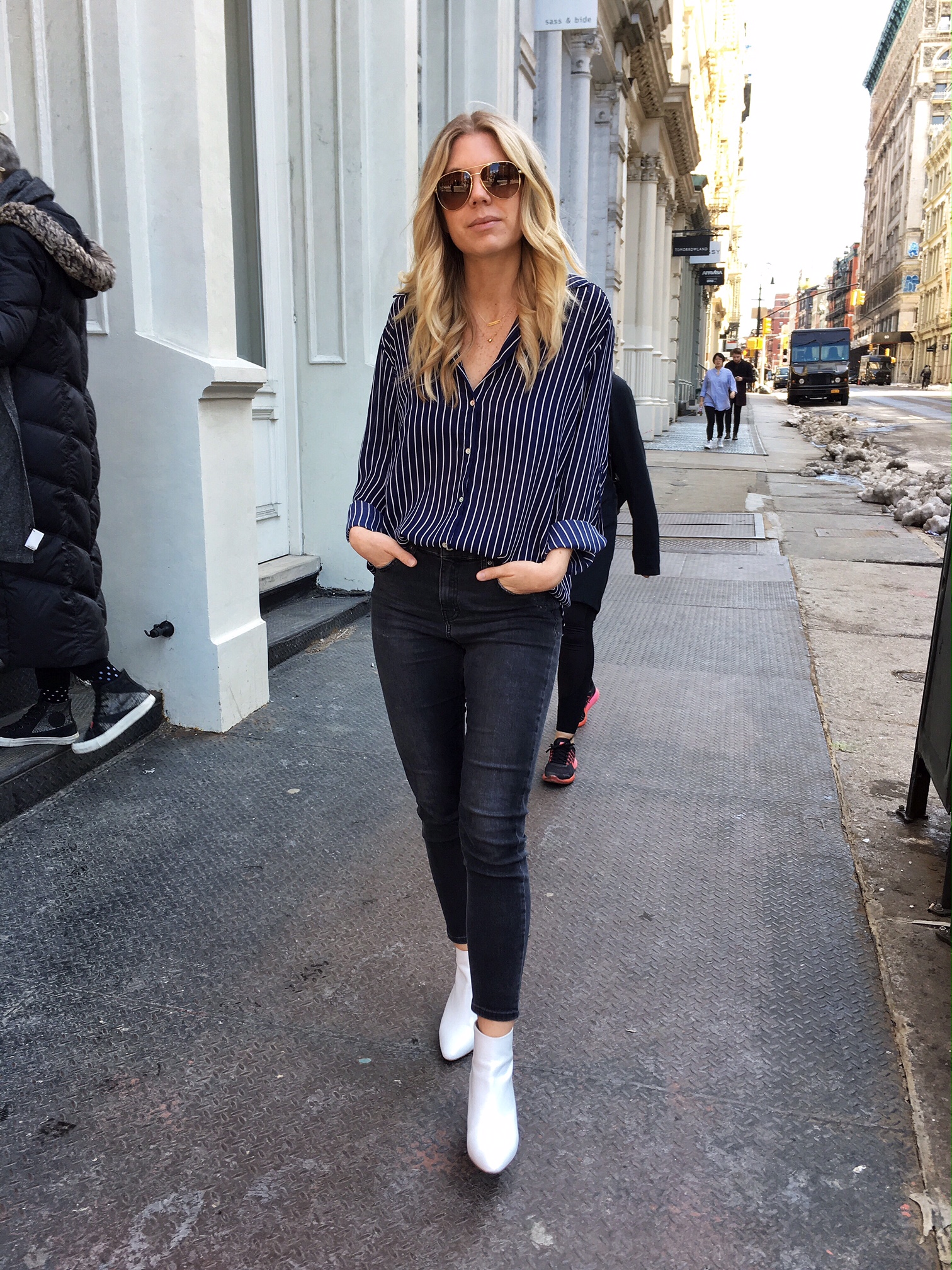 Behind the scenes: I was very concerned about my white boots since it was still a slushy gross mess outside so I practically tiptoed to and from our shooting location. One thing about NYC is that your shoes are destined to be ruined, always, hence the reason I buy $12.99 shoes. Also, I'm pretty sure we took 250 photos because people kept walking by… hence why it looks like I have 3 legs and 3 arms.
Style tip: A slim cropped jean with a heeled ankle bootie elongates your legs.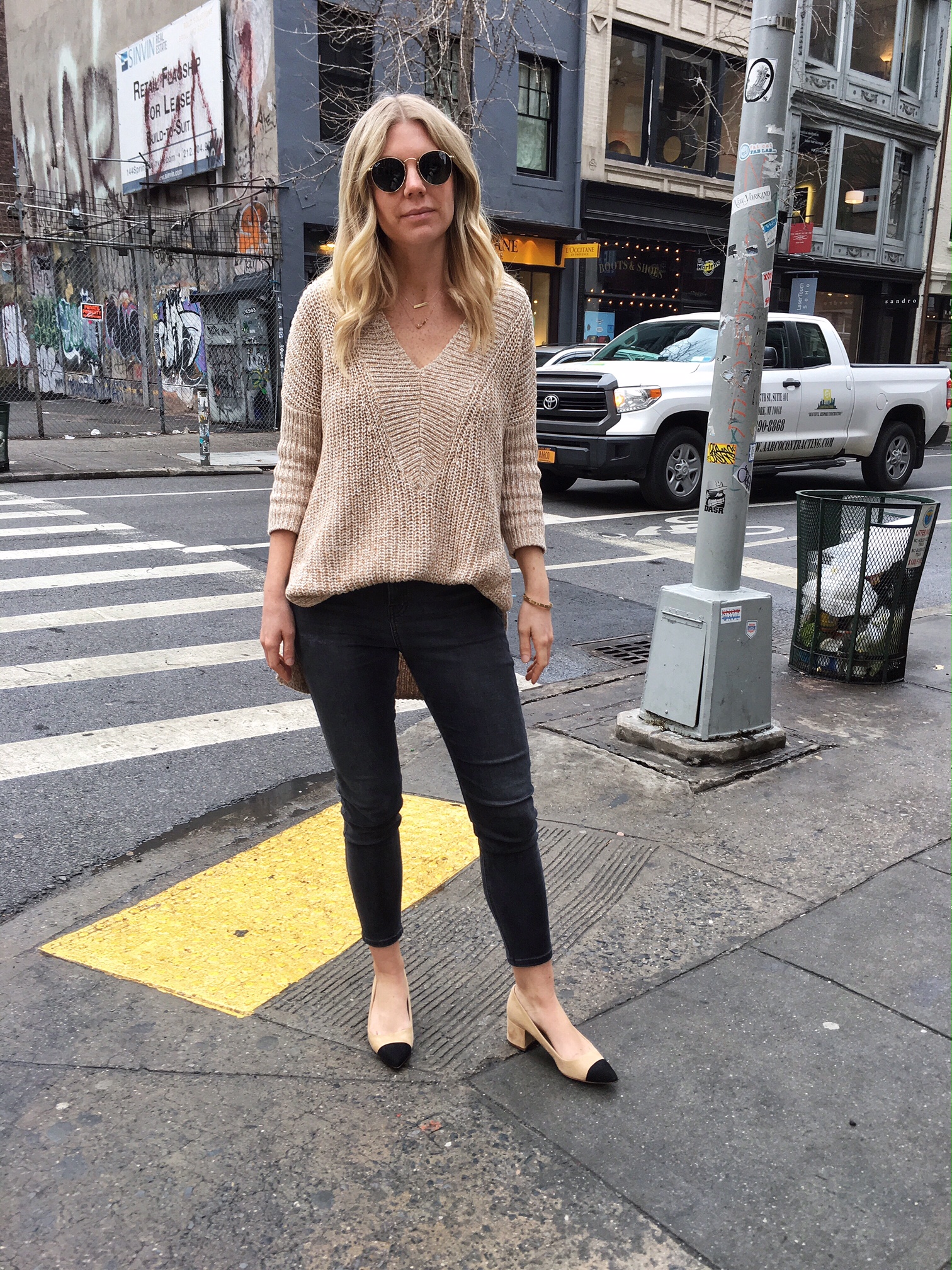 Behind the scenes: This was one of the warmer days of March and I was actually not freezing… for once. It was slightly overcast, which makes for the perfect lighting so we only had to take 10-20 shots versus the 100-200 like usual.
Style tip: If you want to dress up a relaxed look, wear kitten heels. It's a great way to transition into spring shoes from ankle boots in the winter. (These are the same jeans I'm wearing in Look 1 by the way.)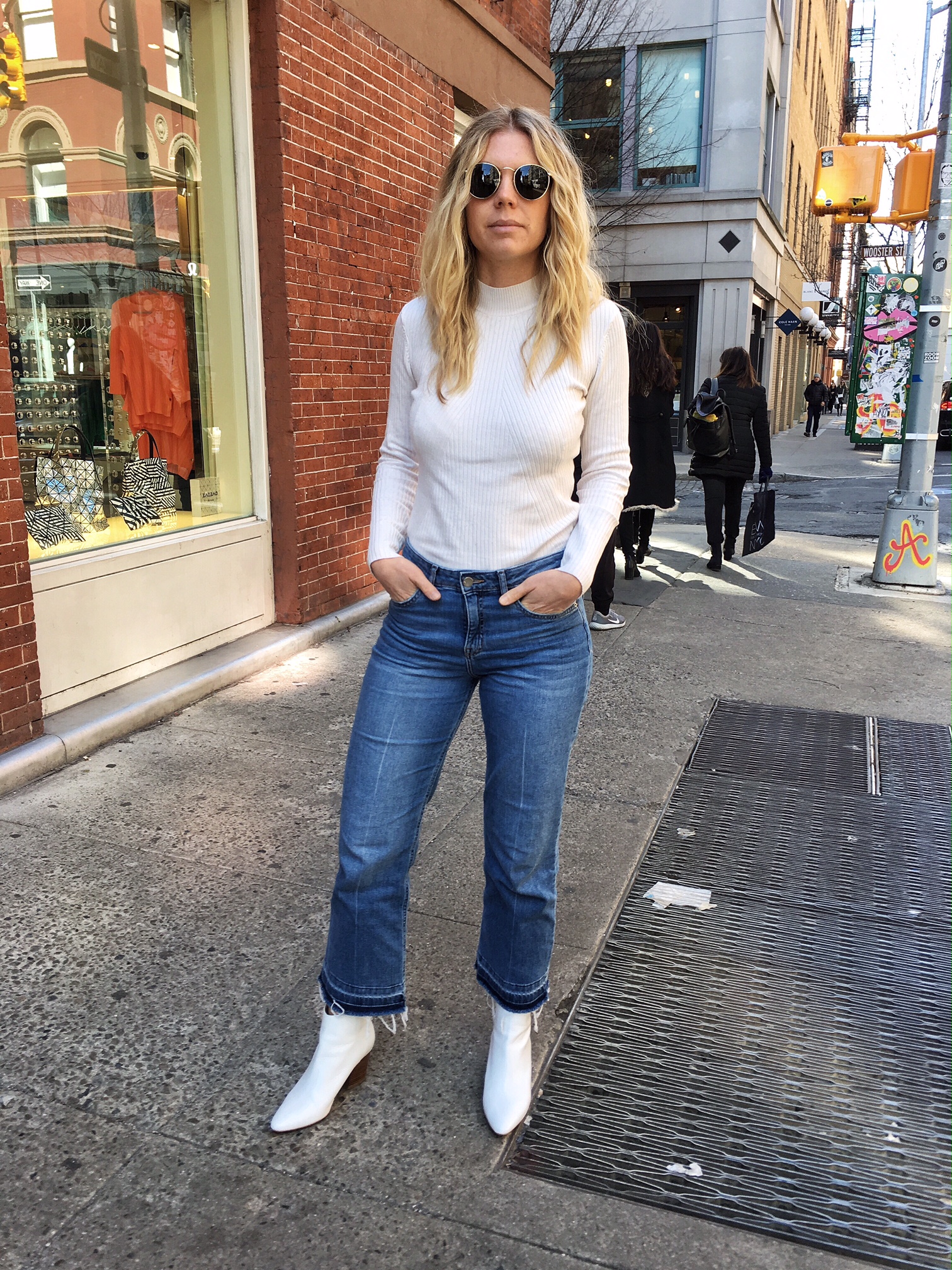 Behind the scenes: It was freezing here and I needed a good shot before I got "cold nose"… you know, when your nose and mouth get super red/numb and it looks like you've been crying for hours because it's so cold. We (Riri and I) literally popped right around the corner from my day job and didn't get one shot without people in it, but guess who didn't care because she was freezing?
Style tip: Always tuck in your turtlenecks for a more sophisticated look and add a belt to separate the top from bottom. (These are the same boots from Look 1.)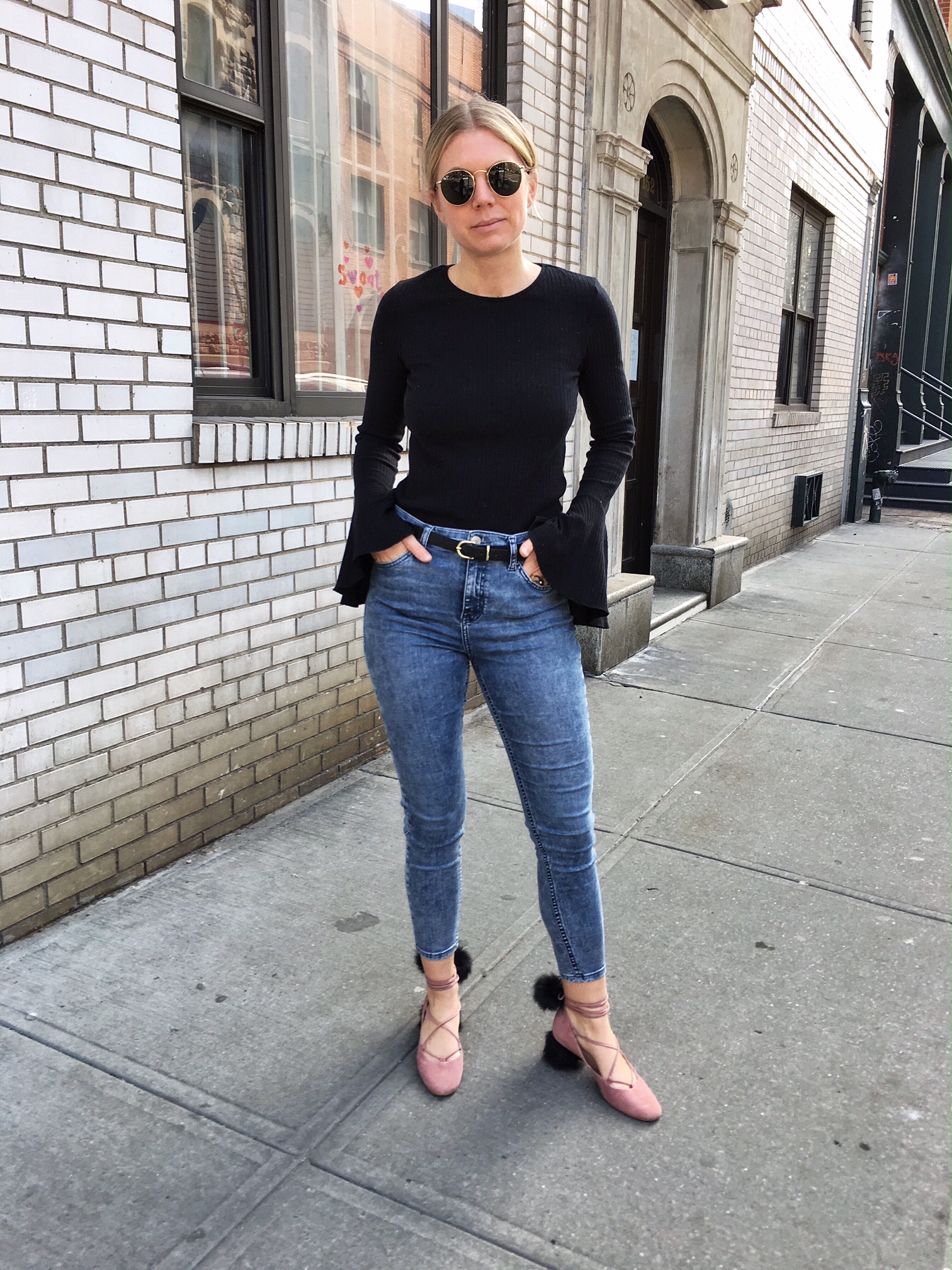 Behind the scenes: I was originally wearing this top with black pants but then I realized I looked like a matador so I changed into jeans. These shoes are my favorite find to date, if you follow me on Snapchat (notanothrblonde) you'll know they were only $12.99!
Style tip: If you're wearing something exaggerated, in my case my top and shoes, you want to neutralize the outfit with something simple – I chose plain jeans. If you exaggerate the whole outfit (top, pants, shoes, bag), people won't know what to focus on. I chose to make the shoes the center of this outfit because I wanted to give them the attention they deserve… they're so cute!

Let me know what you guys want to see more of in the comments below! More blog tips, fashion, videos… let me know! 
xx

My Spring Fashion Wishlist That Won't Make You Go Broke