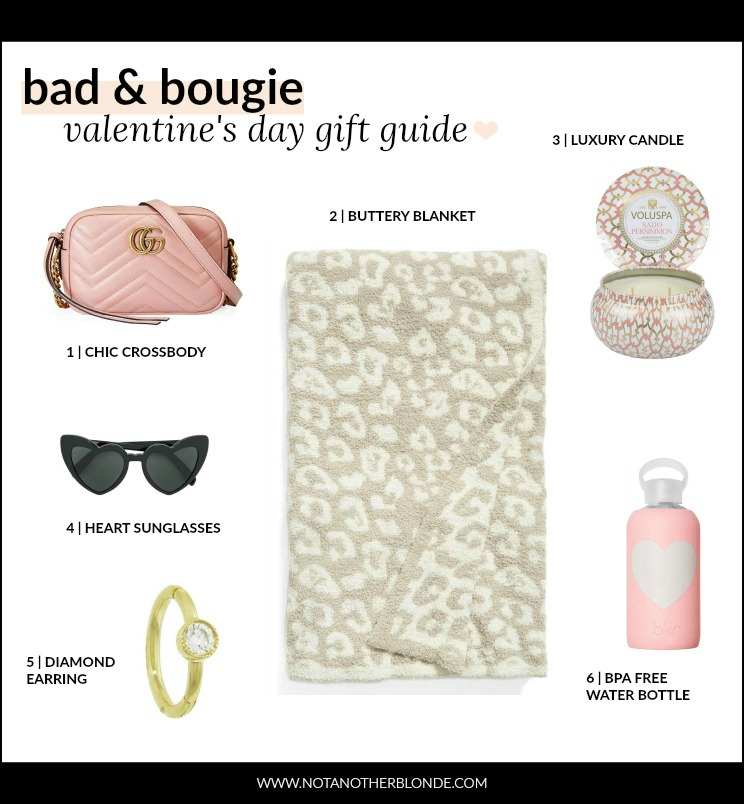 Whether it's Valentine's Day, Christmas, a birthday, or Halloween… I just love any excuse to go all out and celebrate. I'm not saying, for every holiday you should roll out the red carpet, but I figure, why not make those days extra special? I mean it's not every day you celebrate your relationship, though you should, but it's easy to get caught up in the day-to-day that your relationship isn't always a priority, which is why I like to really go ham on V day.
Growing up my mom made every holiday so special so it's something I plan to do with my kids and significant other too.
In fact, I made Pat get me an Easter basket last year and instead of candy he filled it with things I love from Target like dry shampoo, candles, gum, socks, protein bars, etc. It was so cute! And in case you're wondering I filled his with Reese's cups because, well, they don't call him Peanut Butter Pat for nothin'…
Anyway, Valentine's Day for us is extra special because it also happens to be around the time of our anniversary so we celebrate both together.
This year we went to the Michelangelo exhibition at the Met in NYC which was incredible. Then we got dinner at one of my favorite spots: Lovely Day (I always get the pad thai) and we ended the night at Little Cupcake Bakeshop (the Dreaming Princess cupcake is to die). We haven't exchanged gifts yet but when we do, let's hope it's something from this list…
1 | I've recently become a Gucci fanatic! This crossbody is definitely something I'll be getting whether or not Pat's the one giving it to me. I'm loving all their bags lately and I've gotten really, really into pink. New year new me right?
2 | Funny story about this blanket – so I told my mom one of my favorite bloggers was obsessed with this blanket. It went on sale and I told her about it and said I was debating which color to get… couldn't decide, couldn't decide and by the time I settled on the cream color, it wasn't on sale!
So then I go to my mom's house a few weeks later and low and behold that little sneak is sitting on the couch with her BRAND NEW BUTTERY BLANKET I TOLD HER ABOUT! Yep, she got the blanket and I didn't. So now I'm not wasting any time and I'm going to bite the bullet and just get it – it's worth the price tag!
3 | Voluspa is a candle brand I recently started loving and this company called Amara sells them. Amara is the perfect site for gifts, they have just about everything you could imagine.
In fact, I partnered with them over Christmas and got my mom the cutest slippers and this candle.
4 | Ok, I was not into these sunglasses at first and then I saw my girlfriend wearing them and now I'm in love. Heart shaped sunglasses were never my first choice but after seeing them on, they are my first, second, and third choice. Plus, check out who makes them, then you'll want them even more!
5 | If you watch my Instastories you'll know I was asking about earring "huggies" and after reading all of your amazing recommendations, the consensus was Maria Tash sells the best huggies. I already own the 1/4″ solid gold huggies but want to step it up with this gorgeous diamond one, Pat are you listening?
6 | I think I've put some variation of this water bottle in every single one of my gift guides because I love it but still don't have one! It's a crime but this heart water bottle is perfect for Valentine's Day so I couldn't resist.
Are you into Valentine's day like I am or no? Tell me your thoughts in the comments below!
xx
valentine's day gift ideas