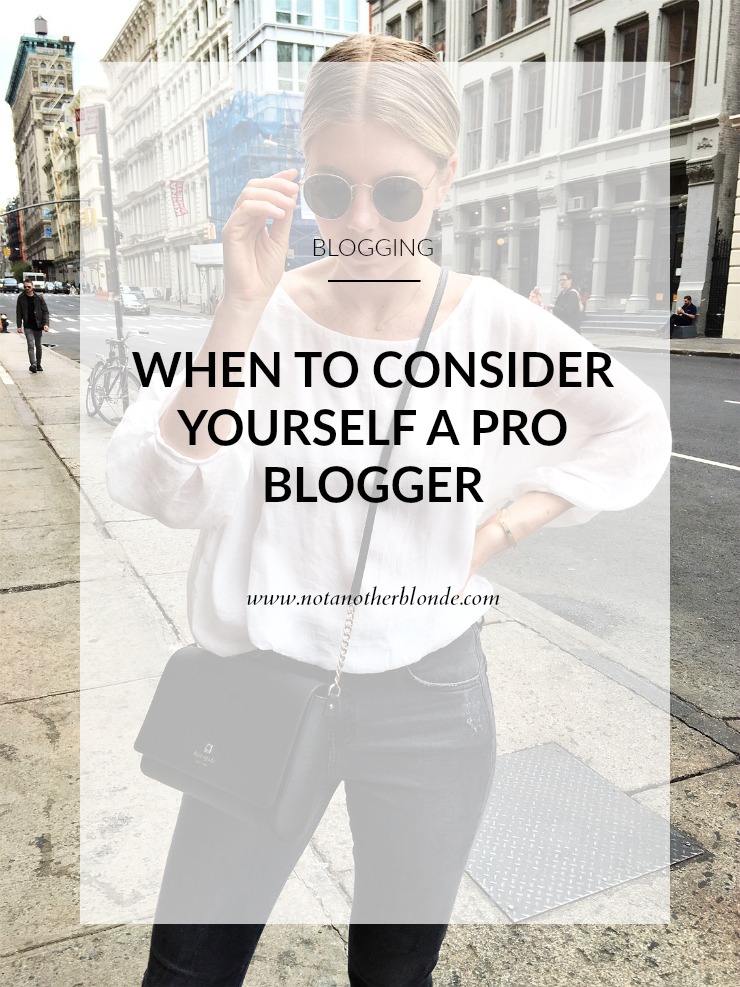 It seems like today we have two extremely different types of people: you have the people who think they're better than they are and the people who think they're not good enough (very common among women especially). I have found that it is rare for someone to feel they're a happy medium. So, for me to sit here and tell you you're a pro blogger when you've done xyz, is a pretty bold move… but that's how I like it.
So before you get all emotional and think 'I'm not a pro, she's not a pro, he's definitely a pro', hear me out. If you've been doing something long enough on purpose and it's had mostly positive results, then you can call yourself a pro blogger.

No matter how long you've been blogging for, if you've never gotten the response you've wanted, you can't call yourself a pro. You have to have proof in the pudding before you can go around saying you're this and that.
For example, there are tons of bloggers who start blogging because they want free stuff or they want to be famous… but then they don't get the collaborations or the followers that they set out for… ever. Hate to break it to you, but you're not a pro and you have no business going around saying you are.
Pro don't just experience great wins, but they experience great losses too. The key word there is experience. They've been around long enough to know what works and what doesn't.
Sometimes you see a beginner blogger come out of the woodwork and skyrocket to the top for apparently no reason but usually, not always, but usually, they come crashing down just as fast as they went to the top. Fast success is hard to maintain. Ultimately you want to acquire both positive and negative results from whatever your craft is so you're able to learn from your mistakes and share it with your followers.

If there is an abundance of people (followers, friends, family) coming to you for the same advice or help time and time again… then to them, you're a pro. They value your opinion on the subject and think of you as a credible source of information for their issue/solution to their problem. If you're a pro to the people closest to you (who are likely the most critical) then you can call yourself a pro to the rest of the world.
Sometimes without even recognizing it, you have a "secret" talent that's exposed by way of people asking you for advice.
For example, I first started blogging about strictly fashion and I realized I didn't know a lot of name brands, I barely kept up with the trends, and I definitely didn't know how to dress anyone other than myself. So then I started to document my journey as an amateur blogger and it just took off. People started to ask me questions, online publications wanted me to write for them… I couldn't believe it!
That's the beauty about blogging, it can grow and change with you. You may start out doing one thing and then end up doing something totally different but as long as you're getting inquiries, you're doing something right and you're well on your way to becoming a pro.

If you wanted to, you could make money from blogging. That's not everyone's top priority, but if it's yours, you better make sure you can actually do it otherwise you're not a pro.
I'm a true believer that you can make money doing anything you want and love, however you have to have the following and experience to do so. The bigger and more engaged your audience is, the more money you can make, that's just how it is. That's not to say you need hundreds of thousands of followers to make money but you do need a solid "fan base". Now, if you're just starting a blog and have no credentials backing you up, you most likely won't be able to make money right then and there.
But, if you've been blogging for some time now and you're currently doing something for free, maybe you can start to charge for your services/products? Whether or not you make money is entirely up to you but if you see an opportunity for it, I say take it! There's nothing wrong with making money doing what you love and/or helping people.
This blog post isn't to deter you from blogging (as I've gotten some heat for that lately). It's meant to give you a leg up on your competition. A lot of bloggers, influencers, and coaches will inspire you to go after your dreams and tell you, you can do anything but what they don't tell you is how to do it.
And I'm telling you, you have to "turn pro" before you can do anything. And the way to do this is by one step at a time. Eventually those steps add to positive results, experiences, and money. Don't get me wrong, you'll definitely have some failures along the way, but those failures will only make you stronger.
Who do you consider to be the pros of the blogging world? Tell me below in the comments! 
xx