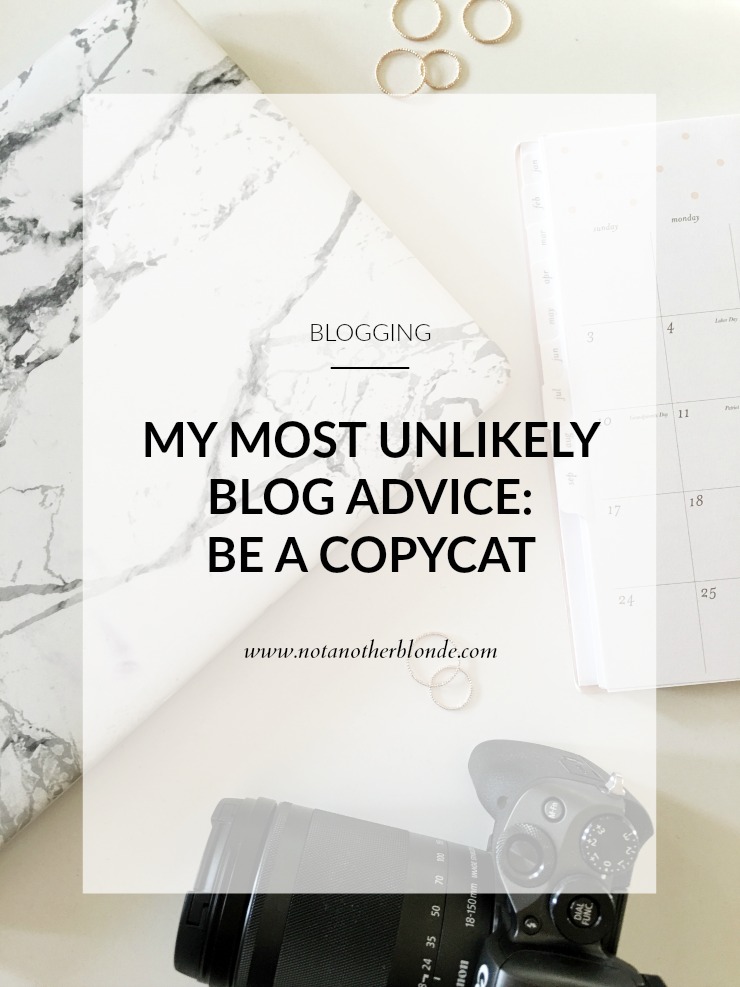 Do you believe it? Me, Miss Zig Zag theory telling you to copy someone else?! Well, believe it!
Before I started blogging, I mean like really blogging, understanding how it all worked I thought to copy other people was basically plagiarism. I thought it was totally low class and completely fraudulent to do such a thing… until now.
I've realized that in some way shape or form we're all a bunch of copycats. Think about it, we got Forever 21 copying all kinds of indie designers, bloggers copying other bloggers' branding, and Instagramers recreating the exact same photos they saw somewhere else. Copy. Cats.
While I don't agree with being a total carbon copy of someone else, I do believe sometimes studying another person's success is necessary to facilitate your own success. Here's what I mean…

Today, there's nothing that hasn't been done. And it's almost impossible to be "original". Really, your personality is the only thing that will be different from anyone else's so that should be front and center with your brand. Other than that, everything else is #samesame.
The content you produce, how you produce it, your style, your hair color, your blog layout, your Instagram feed… I promise you all of those things are like someone else's. And that's ok. We shouldn't put so much pressure on ourselves to be different because we'll get lapped by our competition trying to think of ways to make that happen.
Your job isn't to think of what hasn't been done, your job is to figure out how to do it bigger and better. I hate when people ask "Well what's different about you compared to other bloggers?" Um… I don't know what's different about you from other ::enter occupation here::? Like way to put me on the spot buddy! (By the way, this is totally hypocritical to what I've said in the past, but… get over it. Everyone is a bit of a hypocrite.)
Think of blogging as buying coffee. What makes you different is your brand, not your actual niche. Why do some people prefer Starbucks over Dunkin' Doughnuts? Maybe they like the service better or they like the flavors offered or they like the ambiance.
It's still coffee.
This is an era where there's an abundance of everything so yes standing out is hard but you have one secret weapon that no one else has: your own personality.

This is one of my favorite quotes to date because it's so simple and true. There is no better way to get what someone else has or do what someone else has done. Now, again, you don't want to full blown copy another blogger because then you'll just be a cheaper version of that blogger, but you can 100% steal their tactics and strategy.
For example, a strategy every successful blogger adheres to is adding value to their audience's life. Point blank. That is at the forefront of every single successful blogger because they know that their audience is everything. And if you're not giving your audience what they want, you'll lose them to someone else.
Look at your favorite successful bloggers and dissect the steps they took to get to where they are today. Did they reach out to brands on their own? Did they hire an intern? Did they use Facebook ads? Did they have guests on their blog?
There are all these tiny little steps bloggers take before they build their empires so it's important you really work backward in that sense – meaning, see where they are now and what specifically they did to get there. You can even reach out to these bloggers and flat out ask… but keep in mind you may not get an answer and if you do make sure your questions are extremely targeted and not something you can find online so you're not wasting their time.
Collect as much information as you can from the bloggers you admire and fill in the rest of the puzzle on your own. Stay quiet, observe, and study those who have what you want and then apply the same strategies to your own business.
Being a copycat isn't a bad thing when you're applying an idea to your own. You obviously don't want to plagiarize, photograph in the exact same way, or speak in the same tone. Bringing your own style mixed with a successful blogger's strategy is the best thing you can possibly do for your blog.
Who's a blogger you "copy"? Tell me in the comments below!
Also, be sure to tune in tonight on Instagram live @notanotherblonde at 8pm EST for our NAB blog post study group!
xx