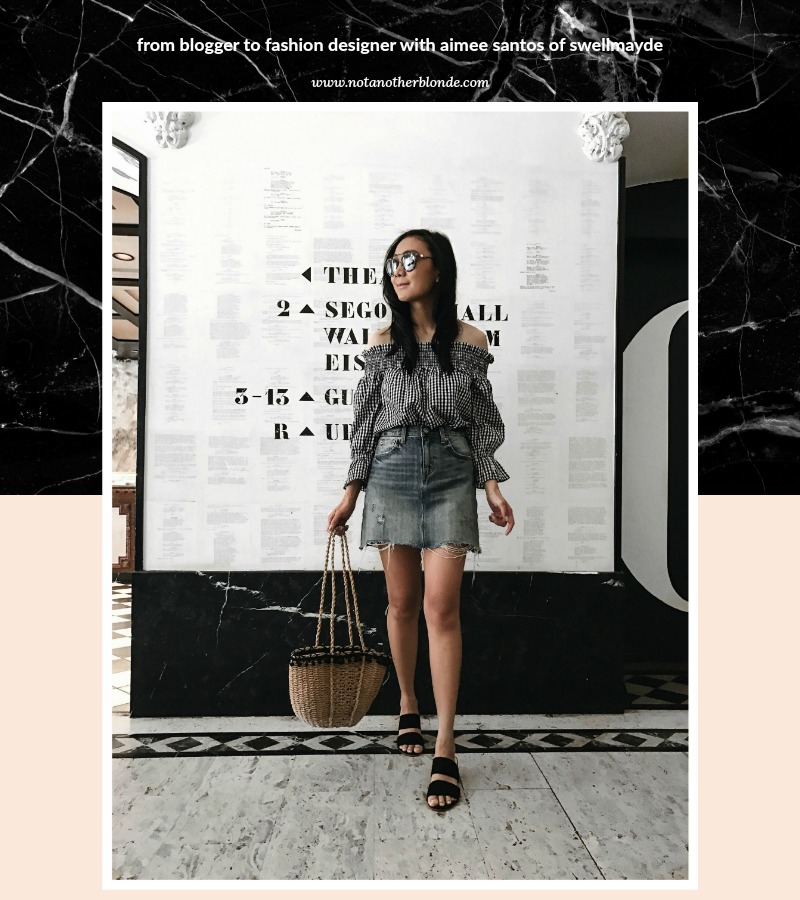 I started NAB with the intention of creating an inclusive, super informative community of badass women and day by day we're working together to make that happen. From the Not Another Blonde secret Facebook group to interviews like the one I'm about to share, this space is about YOU and bringing as much jam packed value to your life as possible.
So as I've said before there's a lot I don't know which is why I want to regularly bring in the experts who do like Aimee Santos. Aimee is a fashion student turned designer turned blogger turned businesswoman. I'll let you process that for a minute…
Yeah, basically she's a boss so I knew I had to get her on here to share her insight…
Q: Aimee! So excited to have you. I've been an admirer of your IG for quite some time now but I feel like you're pretty mysterious – you rarely show your face and you don't overshare (which I'm extremely guilty of). Can you briefly describe your background for us – who you are, when you discovered your love for fashion, how you got started blogging, etc.?
I almost didn't pursue fashion, even though I loved design my whole life. Growing up, I was pressured by my family to go into the medical field and was first pre-med in college. After seeing how passionate my classmates were about their future, I knew in my heart I had to pursue a career that I loved. I took local fashion and art classes at night after a full day of pre-med classes, to put together my portfolio for fashion school. When I got accepted, I decided to go after my dreams.
I used to make jewelry for fun and wear them to work.  A lot of my co-workers used to ask me where I bought the pieces. When I told them, I made the jewelry myself and I could teach them, they were intrigued, but also discouraged because they thought it would be difficult and time-consuming. So I started a fashion blog that was centered around DIYs.
I wanted to teach people they could DIY fashion pieces that could seamlessly integrate into their wardrobe so it was important to make the tutorials easy to follow. The blog has organically grown over the years into lifestyle, travel, and food.
Q: After some serious stalking I was able to find that you went to school for fashion, mentored with some of the best (Moniquie Lhuiller are you kidding me?!), and eventually became a designer for Lovers + Friends, which is amazing BTW. You don't just fall into an opportunity like that, so what were some key steps that got you to that point? Something that aspiring fashionistas might miss along their journey…?
Every job that I have had, I have met incredible people and my bosses were never just my bosses, but they were my mentors. I've learned a great deal from them… not just how to be a better designer, but how to be a better leader.
An old co-worker was working at L+F for a couple months, and when a position became available, she reached out to me.  When I learned more about the brand and met the team, I really connected with everyone and it just felt like the right step in my career. And I am forever grateful for everything they've taught me. I've grown as a designer and as a person throughout my past jobs.
My advice to anyone interested in a career in fashion: I would look into going to an art or fashion school to learn all the technical skills and hone in on your creative and design side. And while in school, I would advise gaining as much experience as possible, with internships or any assistant positions.

Q: Working at L+F is such an amazing accomplishment. What are your top 3 most valuable lessons you learned there?
1. Stay organized. 2. Keep your eyes open for inspiration. It can come from anywhere and everywhere. 3. It's important to make time for yourself. Creating a work/life balance is very key.
Q: And now you launched your own clothing line, Beloved Lane! Huge congrats! How has that process been/is there anything you didn't know that you know now?
Having been a designer for the past 8 years for other companies, I had to learn how to start and run a business. It has been a lot of trial and error, but it has also been very rewarding as well. While creating Beloved Lane, I started to really understand what was important to me.
I wanted to work with local vendors and factories and support my community.  Being socially conscious has been at the top of the list.  It's a lot more work on your end if you work locally; and more expensive,  but it has been worth it and I'm really proud of the end result.
I have so much more to learn and I'm excited about the future!
Q: Throughout all your growth as a designer it seems your blog has been constant – you update regularly and maintain a killer aesthetic. How has your blog played a role in all your success?
I believe it has helped tremendously. Almost every interview I have gone on, the person interviewing me already know a little about me and asks about the blog or my Instagram. It usually sparks conversation and makes me more comfortable during interviews.
Q: Speaking of your killer aesthetic, I love the minimal aspect of it and the consistency, it's literally perfect. How exactly do you edit your photos?
I personally love the S series on VSCO… VSCO is my favorite editing app. I love the A series!
Q: And finally what does the future look like for your blog/what can we expect from you in the coming months?
I've been really interested in living a cleaner life (beauty, health, and food) and will share my tips on that. And I also hope to share more about Beloved Lane and any projects I pursue in the future!!
want more?
Blog Talk with Lauryn Evarts of The Skinny Confidential
Style File Friday | Victoria Van Ness from Blog Lovin'