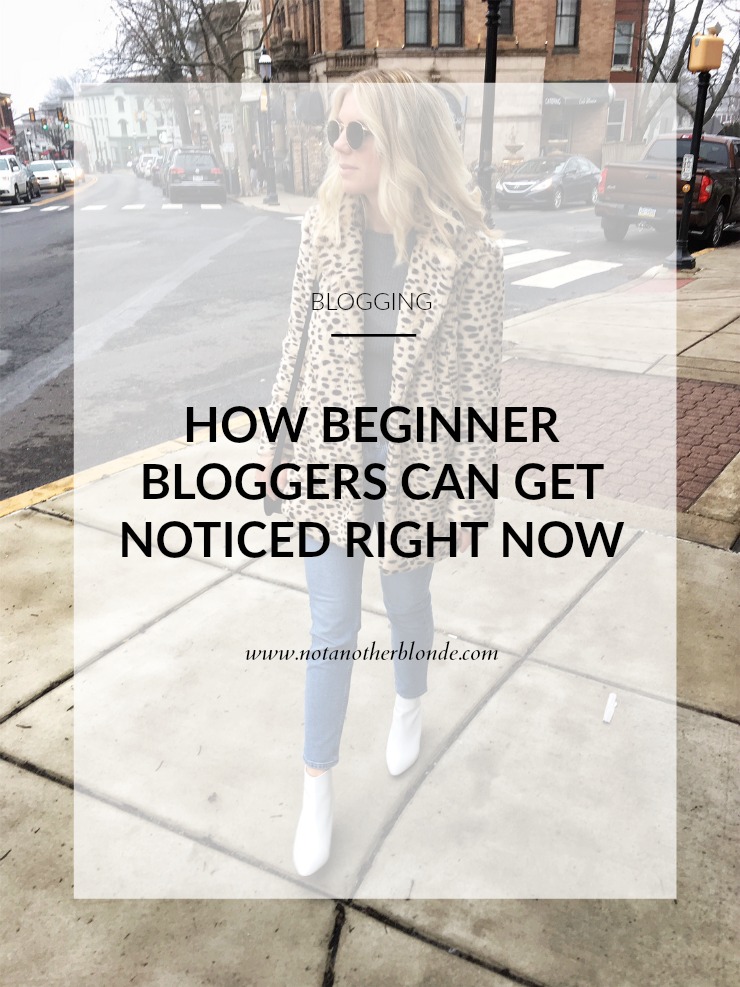 Back in the early 2000s if you had a blog, you were almost guaranteed to stand out. Today, bloggers are a dime a dozen. It's almost more uncommon to find someone who doesn't have a blog than someone who has one, which I think is great because it means there's something for everyone online. However, it also means you have to really be outstanding in order to stand out.
Walking into an already crowded room and getting noticed isn't easy but it can be done, and it is done every single day. New bloggers step on the scene and "blow up" overnight (not really) but it seems that way, while you're left sitting at your computer wondering why. I'll tell you right now, there's your first problem: you're sitting, wondering. The bloggers who get noticed are busy doing as you're busy watching them do. Make sense?
So if you want what they have, start doing what they do such as…

Right now, we are consuming more content than we've ever consumed in the history of consumerism. Think about it… the digital world is like Times Square x10. In fact you're probably consuming this content right now while consuming content on Snapchat and Instagram and Facebook. (Comment below if I was right!)
Not that there's anything wrong with an abundance of information, but there is something wrong if you're trying to break into an already crowded industry. There is literally something for everyone. And that's the problem… everyone is trying to be everything for everyone.
Instead, what bloggers should be focusing on is being an expert in one thing instead of all things. That way their audience will be a loyal group of people seeking one thing rather than a bunch of bored passerbys looking for inspiration. Niching down and honing in on a specific topic will allow you to break through the noise that is now blogging.

Creating high quality content goes beyond pretty pictures. It encompasses every aspect of your blog. Your writing should be just as high quality as your pictures and your pictures should be as high quality as your videos. Sometimes we can't always afford a professional photographer or videographer and that's ok.
High quality means doing the best you can with what you have. There are at least a handful of bloggers out there who only use their iPhones (I'm one of them) and their content is still quality. As long as you're adding value with a solid strategy and your content isn't complete crap, you should be able to get noticed.

If you've been reading NAB for a while, this isn't the first time you've heard me preach about collaborations. However it may be the first time you've heard me recommend collaborating outside of your area of expertise. What I mean by that is if you're a fashion blogger, try collaborating with a non-fashion blogger like a food blogger, travel blogger, fitness blogger, or business blogger.
This way you're able to attract new followers who wouldn't know who you are because you're not in that space. Plus it would be really creative and fun to see a fashion blogger, with no experience in the kitchen, try to cook with a food blogger. Or it would be cool to see a travel blogger and a food blogger go on a food crawl across some foreign city. These collaborations are unique and memorable which is why tapping into different markets is so important for beginner bloggers.

One of the many benefits of being a beginner blogger is your hunger. You're hungry for the limelight, hungry for money, and hungry to give the best and be the best. Your motivation is always at its peak when you start a new venture. This will help carry you past your competition if they've gotten a little rusty.
Hustling harder than everyone else means staying up later creating killer content, emailing those who can take you to the next level, being able to afford to be a perfectionist, and innovating like crazy so you're the only one of your kind. Hoping will only get you so far, you have to hustle the rest of the way.
It's hard work but it's the type of work that will keep you ahead of the game and it will get you to your goals faster. That's just the way it is. Like Gary Vee says, you should always be trying to put yourself out of business. You are in complete control and in order to get noticed as a beginner blogger you have to be willing to put in the work.
What do you find as your biggest challenge with getting noticed? Instagram? Creating unique content? Photography? Tell me in the comments below and I'll help you as much as I can! 
xx