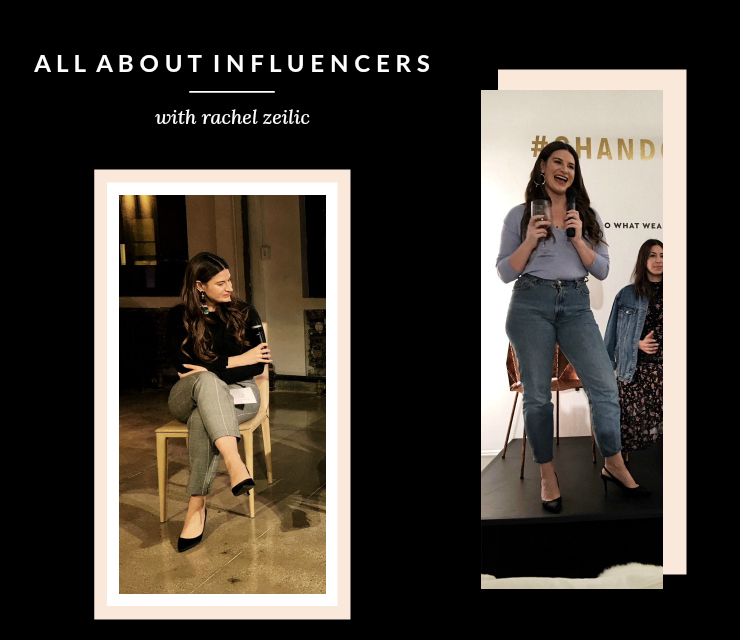 I want to preface this interview by saying this was my first phone interview which was absolutely incredible and I can't thank Rachel enough for her time. In true hustler fashion, Rachel called me on her way to an appointment, and after we hung up, the girl hasn't stopped! From getting her start at a hardware store in Australia to then becoming the Creative Director of Majorelle and now the VP of Talent for Who What Wear, Rachel is the epitome of a #girlboss. 
Now for a little BTS action…
It was a hot summer day in the city and I'm crouched down sitting in a dark, dirty, cockroach-infested stairwell of a SOHO building from 1900 because it was my only option at the time.
I knew this was going to be a phone interview and I intended on taking notes until I realized I could potentially miss a real gem (which there were a lot) so I called on my coworker's phone and used my phone to record the audio using "voice memos". I really pulled out all the stops for this one.
Where there's a will there's a way, right?
Rachel is a total BABE inside and out and I'm so excited to feature her on Not Another Blonde!
(Note: any "+" mentions are from me!)
Q: Let's run through your background a little bit – StyleStalker, Jet Set Diaries, Majorelle… How did you first get into the fashion scene? 
The way I got into it was that I saw a gap in the Australian market. + This is called filling "white space" which I always talk about!
I was living in Australia at the time, and every summer I would travel to Europe, I would see Zara and Topshop, but we didn't have anything like that in Australia. There were Australian designers that were great but really expensive – a little sundress was like $400.
I had zero experience and was blissfully ignorant of how hard it would be, but I saw a need for it (affordable stylish clothing). So I Googled everything – I didn't know anyone who worked in fashion, I didn't go to school for that. I was working at a hardware store at the time. + You do not need a background in fashion to get into it!
I started StyleStalker with a collection of about 10 pieces which was only online. You really have to look for something that's not already being offered…
Now we'll create creative decks or "brand bibles", as we call them, which shows us that we don't have a brand doing this or that.
Q: Did you fund all of that yourself from working at the hardware store?
Yep, I saved $10,000.
When you start a clothing line, you're putting out cash and not getting it back until 5-6 months later. + And sometimes you don't get any money back. But a rule of thumb is you have to have money to make money.
We got into 150 stores the first year. My mom took out a loan on her house but I wouldn't have taken the loan if there weren't guaranteed orders.
As you grow you need to put more and more money into production. The better you're doing the poorer you are so to speak. You have to put more money into the next season than you made from the last season.
The whole line was inspired by Who What Wear (and I'm not just saying this because I work there now) and a few bloggers. There were only a handful of bloggers at the time – Rumi Neely, Gala Gonzalez, Geri Hirsch – I was obsessed and inspired by what was going on there.
Q: And how did you start working with bloggers?
When I first saw Fashion Toast (Rumi Neely's blog) I was like "What is this?!" To me, it was logical I was like "I'm going to send these girls clothes."  It was just a conversation like "I love your style. Here's what I do. Do you like what I do…?" I was probably the first brand to do that.
Q: So what was your big break?
A big break was the time Rumi (Fashion Toast) wore one of our dresses. We actually thought our website was hacked because we made so many sales. We sold 150 dresses overnight or something – but no our website wasn't hacked, Rumi wore our dress and it was all real!
Another break was when I got into Revolve. I had known Raissa (Chief Brand Officer of Revolve) from being in the industry – we were in the same showroom together and she was a big fan of Style Stalker. So I asked her to have a drink with me and get some advice on how to work with investors. She was basically like, screw them, come with us, and that's when Majorelle was born!
And so I fell into a marketing role at Revolve in a very organic way. I had a great relationship with all the girls (bloggers) so we developed #revolvearoundtheworld, known as this all-encompassing strategy. + Prime example of the power of influencer marketing. Revolve is a pioneer in the influencer marketing space. 
Q: You still hang with the biggest names in fashion, like the biggest bloggers in the game – The Blonde Salad, Song of Style, We Wore What, Sincerely Jules… how did that happen? What advice can you give to people looking to hang with them? 
Ask yourself why you're looking to connect with them. What's your KPI? + KPI stands for key performance indicator and is a common term used in marketing. What are you looking for? Are you truly a fan and you want to tell them that or you want to hang with them because you want that to be your career?
If you're a fan you could say "Hey I'd love to meet you here and tell you that I'm a fan" or if you're looking for something else maybe that's not the best place for it and you could get that need filled some other way. + Basically, don't use and abuse their power. It's not about what you can get from them, it's about what you can give them. The relationship should be mutually beneficially and organic on both sides. 
These girls are so humble in the sense that if you're a fan, they will stop and take the time to say hi and they really appreciate the love. But always be tactical about it and remember they're human too. I've been in situations where an influencer was at a restaurant having a fight with her boyfriend and some of her fans loitered for an hour and a half while they had this fight. I went up and started chatting with them to distract them because it was a bit invasive. + HUGE no-no. 
The only way to genuinely be friends with someone is to be friends with them! They don't want people around them who want to get anything out of them.
Q: We touched on this a little at the WWW event, but how do you specifically choose influencers to work with? 
I classify influencers into two buckets: those who have a great following – I will always work with them because my philosophy is that even if they don't match your aesthetic their followers love their (said blogger's) aesthetic so they're going to take the clothes and connect with it in their own way and bloggers whose style and aesthetic I personally love and it doesn't matter how big their following is.
Essentially bloggers need to meet the specifics of a campaign. The influencer may not even be my taste or aesthetic but she caters to what we're working on. For example, it may be a new mom who lives in Atlanta. It all depends…
Q: So many girls would kill to work at WWW, so as the VP of Talent, what does it take to thrive in the industry?
Emotional intelligence. I get my energy from people so anyone who wants to work with influencers probably needs to have the same trait. Extroverted people will thrive in this industry!
You also have to be willing to push outside of your comfort zone. It's really important to be able to push yourself even though it feels icky and weird and uncomfortable at first. If you want to be successful in any business you have to be able to have the uncomfortable conversations.
Who else do you want to see interviewed on NAB? Tell me in the comments below!
xx
shop Rachel's look