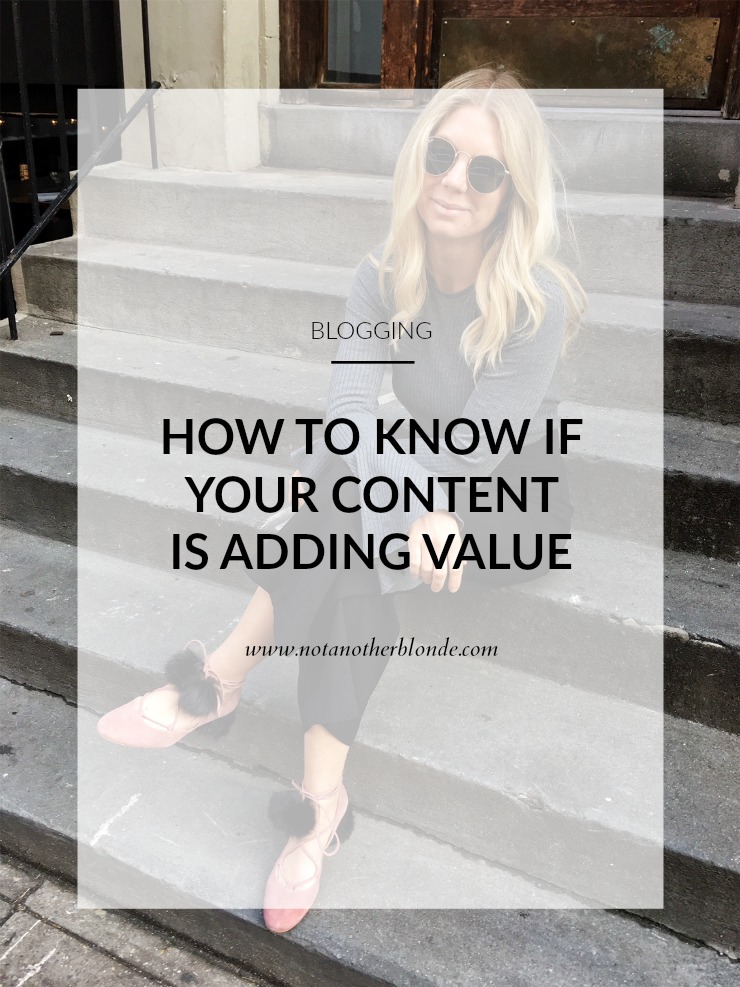 I talk a lot about adding value because it's the one thing you have complete control over and it will literally make or break your blogging career. What I mean by that is you don't have control over the changes to social media, you don't have control over who will consume you content, and you don't have control over if they will even like it. But you do have control over the content itself and whether or not you're adding value. And I'll let you in on a little secret: the bloggers who do add value are the ones who KILL IT. 
A sure way to know whether or not you're adding value is by looking at your engagement. If your engagement is authentic and people are really interested in what you have to say, then you've won. If you've built a community and you start seeing the same names show up in your comment section, on your Snapchats, and in your inbox, you can bet you're adding value.
Getting to know your audience takes time, but it's a process worth investing in. Here are a few ways to know what your readers are thinking and if you're adding value:
ask
Asking is an underrated and overlooked action. For whatever reason people are so afraid to ask anything! You don't ask the waitress for something, you don't ask your significant other about something, you don't ask your boss for something… why?! Because the way I see it is "you don't get what you don't ask for", (my favorite quote from Sofia Amoruso).
Your followers aren't mind readers, they don't know you want to add value to their lives, nor do they know you want to know if you're adding value. So, you can ask them in your email newsletter, on your Instagram, on Snapchat, Facebook, or anywhere!
Asking your followers a question like "What do you want to see more of?" or "What was your favorite blog post?" or "What do you want to learn more about?". These questions not only engage your audience but it shows you care since you're asking for their input. (This also helps in building a community.) Forget your fears and just ask because then you can't beat yourself up over not knowing what would have happened had you asked.
keep record
I highly highly highly recommend tracking your progress and keeping record of everything. Use Google Analytics to track your traffic, use Yoast Analytics to track your most popular blog posts, and use Instagram Insights to track your highest engagement hours.
If your traffic is low one week then you know your content may not have been the best. If all your blog posts are equally as popular for the week, produce more blog posts that are like them. If you're posting on Instagram at recommended times and your engagement is still low, you may need to change your tactic.
I personally will keep an eye on my analytics every week and then I really evaluate things at the end of each month. My followers don't even have to tell me anything because I just know what content is successful and what isn't just by looking at engagement.
read it
Yes, it requires a little more time but reading/watching/listening to your content yourself will put you in the shoes of an outsider. After you initially create content (write a blog post, make a video, etc.), move on to another task for a few hours then go back and look over what you just created.
Did it add something positive to your life? Did it make sense? Did you want to know more? Were you engaged the whole time? These are the questions to ask yourself before putting any content into the digital world. If you don't answer yes to all, go back and add in the stuff that does add value and take away the stuff that doesn't. Looking at your content as if you're a new blog visitor is the best thing you can do for your business.
Final thoughts: Every blogger is different and how one blogger adds value may not be the same as how you can add value. Whatever you do, don't be a carbon copy of someone else. Value is best received when it comes from you in your own unique way. As long as you are improving, (or at least trying to) your readers' lives, you're adding value. 
What type of value do you hope to bring your reader? Tell me in the comments below! 
xx
my latest obsessions