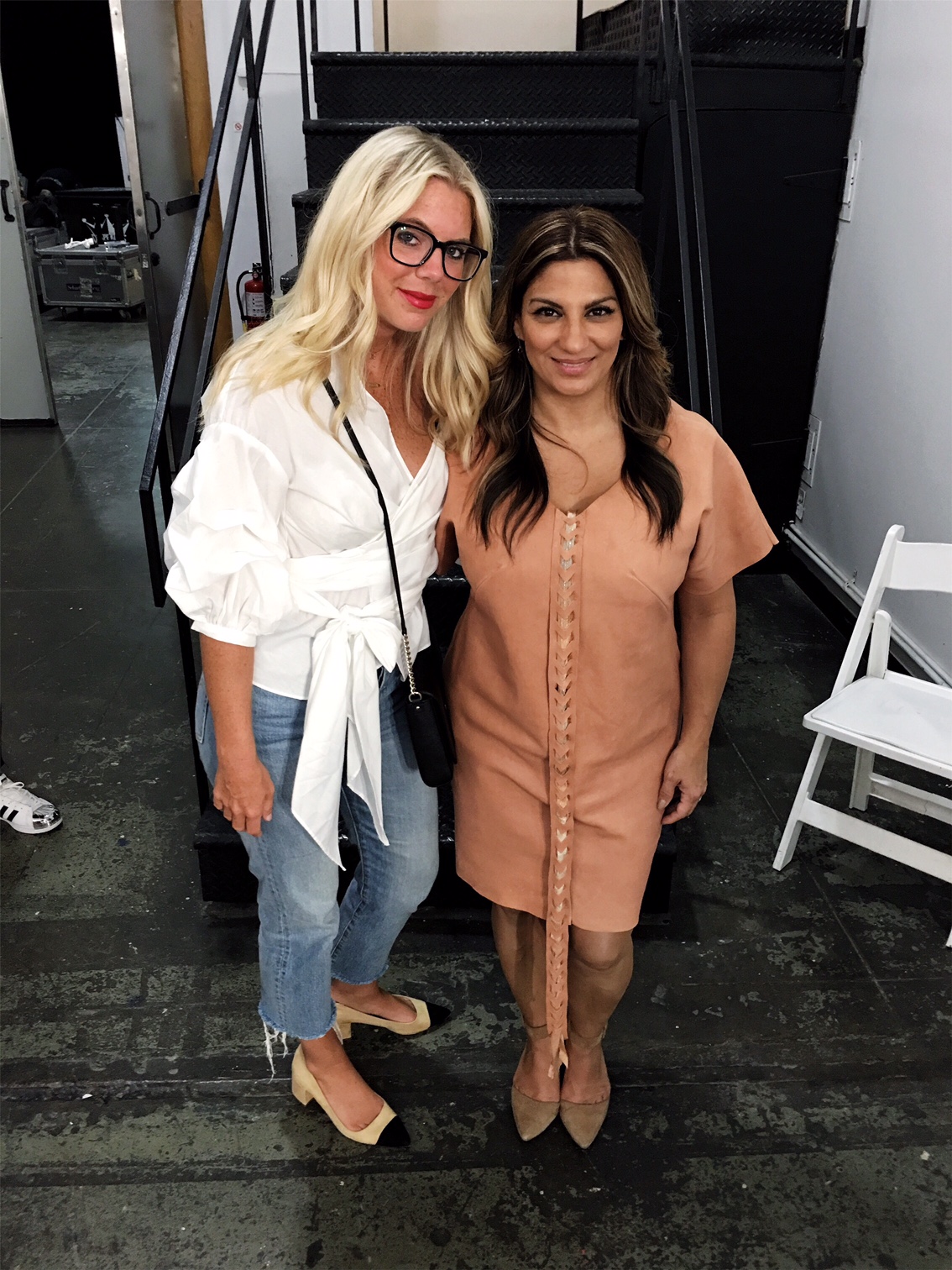 *The only show I attended this year was to support my good friend Gina and her line Trade by Gina La Morte – a socially conscious brand that helps prevent human trafficking and abuse.
To be completely honest New York Fashion Week stresses me the F out. There is so much pressure from a blogger standpoint to be at the forefront of all the shows, dressed to the nines, going to all the events, and networking the crap out of yourself, all while documenting the whole experience via social media.
Micro-influencers have it even tougher because they just want to fit in. They want to be with the cool kids so they try to convince PR companies and brands that they're worthy of a golden ticket.
And that's where you'll fail.
Stop trying to be like the rest of them. Why do we want a backseat perspective on fashion week when we can get the real deal PLUS all the behind-the-scenes action from macro-influencers like We Wore What and Peace Love Shea?
So the older I get the more I realize it's not worth the angst. Will I go to shows? Sure, but I'm not killing myself over it nor am I going crazy over the fact so and so got invited to this event and I didn't. To me, Fashion Week is about the fashion and supporting the designers who worked their entire lives for the moment their models walk down that runway. Whether it's their first or fifty-first time being at NYFW, this is the brand's moment (not ours) and it's important to acknowledge that.
Now that we've cleared that up, let's talk about how micro-influencers can kill it during fashion week…
being the first to see emerging designers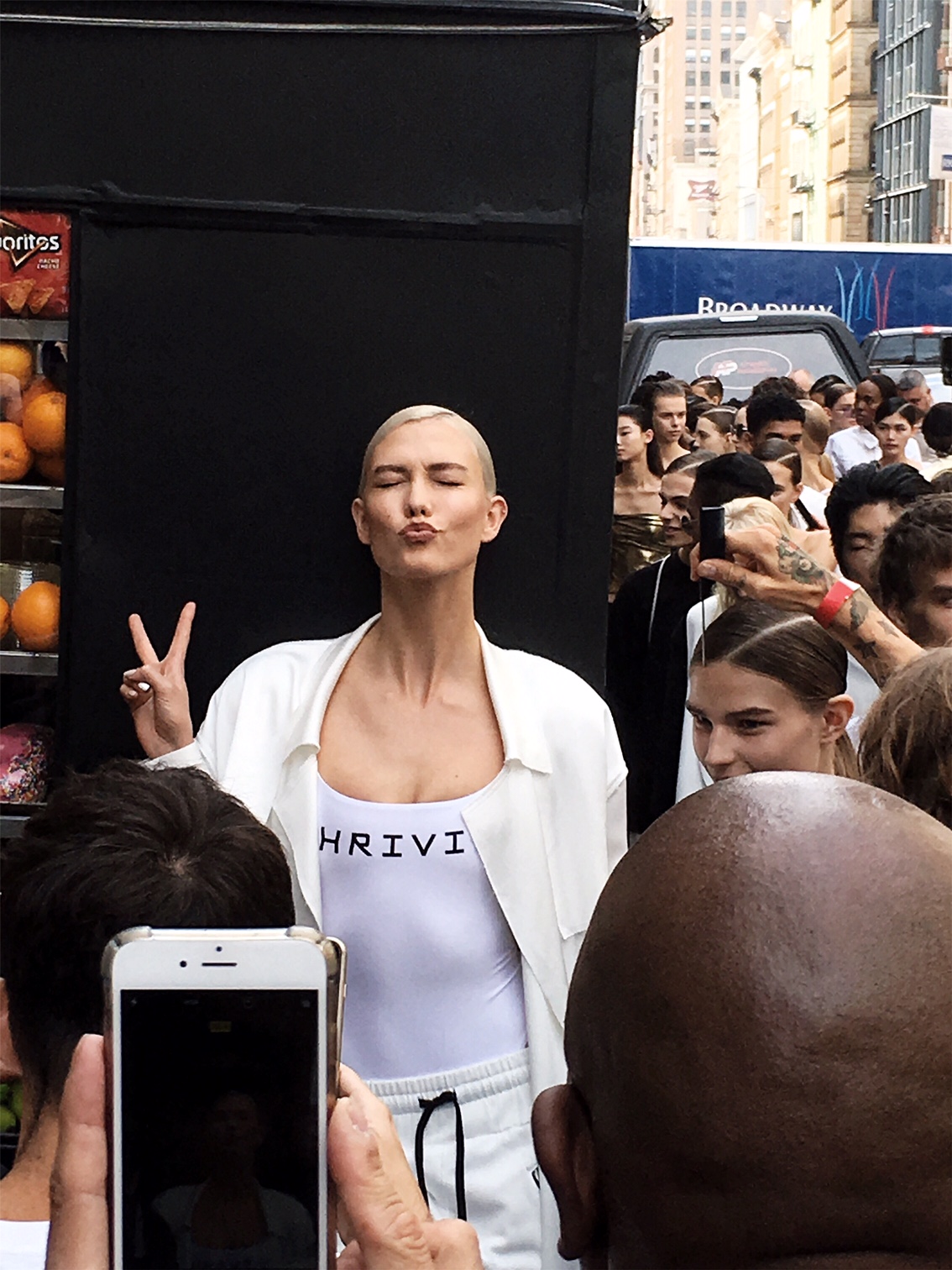 *I stumbled upon Karlie Kloss in SOHO during NYFW opening for Baja East.  
As you can probably guess, YSL and Zimmermann aren't knocking on micro-influencers' doors begging them to attend their shows. But there are plenty of designers who would love to have you at their shows and it would be a big missed opportunity on your part if you didn't take advantage. This doesn't mean you should go to every single show, but you should go to the shows that make sense for your brand.
And when you find brands makes sense for your brand, you'll be adding value to your followers' lives because the brand will most likely be something they'd be interested in too. Plus sharing emerging brands' shows gives your followers something different from the shows they see from pro bloggers.
The difference between micro-influencers going to a YSL versus an emerging brand's show is exposure and collab potential. A lot of the people who attend the larger brand shows are super well connected, which is great, but they're also so well connected that it's hard to become connected to them. Meaning, they have their go-to bloggers for collabs, they have their circle of friends and as a micro-influencer, it could be hard to convince them why you're a good fit for the brand or how you can benefit them.
It's like being the new kid in school trying to become BFFs with the most popular girls who have all been friends for 10 years. It doesn't happen overnight and your chances are slim.
But when you attend an emerging brand's show, you're all new kids which is the common denominator. They're new designers, you're a new/smaller blogger, it just makes more sense.
The emerging brand is more likely to focus on you because you have that niche, tight-knit community they're trying to reach. You're more likely to be photographed, more likely to be taken seriously, and more likely to make authentic connections that will actually go places versus throwing your business card at people you don't have anything in common with.
When you're surrounded by people and brands who are in the same boat as you, it makes collaborating easier and more effective: you're able to grow together. And growth is ultimately what every blogger wants.
getting "tagged" at events
Most of the events you'll get invited to as a micro-influencer will consist of other micro-influencers which is great news for you because there will be a LOT of Instastorying and Snapchatting. It's rare that big bloggers will tag you on IGstories or Snapchat because they have tons of people coming up to them constantly and to Instastory every encounter would be a lot, plus it might not be at the top of their priority list, but it should be. (Lauryn from The Skinny Confidential does an excellent job at consistently acknowledging her readers which in turn helps grow her brand.) However, if you go to an event full of micro-influencers they are so Snap happy they won't hesitate to document their experience and tag you in pics/videos.
When you're tagged on anything on social media (especially Instastories) it's exposure and the more exposure you can get, the better. You have the potential to capture other bloggers' audiences which is how you grow. When people don't know you exist it's impossible to gain new followers and engagement.
So the best, best, best way to get people to know you exist is by forcing them to see you through someone else's profile. And the easiest most authentic way isn't #followfriday, it's in person at events. At smaller events, you're a big fish in a small pond versus major events when you're a small fish in a big pond. Make sense?
relating more to your audience
Micro-influencers are probably the most relatable because well, they're micro. They're still at an attainable level for aspiring bloggers and fashionistas. Their followers can shop their fashion week looks without breaking the bank and their content is more… real. Of course, that's not to say pro bloggers are completely unrelatable because that's not the case but micro-influencers have a competitive advantage when it comes to being relatable. They're not quite at that celebrity status so it's easier for their followers to put themselves in their shoes (aka they're not being flown on private jets with Jonathan Cheban to Paris Fashion Week).
Not to mention micro-influencers can still respond to every comment and DM without it taking all day. Bloggers like Something Navy, who have millions of followers, wouldn't be able to get off Instagram if they responded to every single comment every day. However, as a micro-influencer you can and by doing so you form a deep bond with your followers.
So when those Fashion Week questions come rolling in, guess who will be the first to answer? That's right, you baby!
What's your take on bloggers during fashion week? Tell me in the comments below!
xx
shop the look