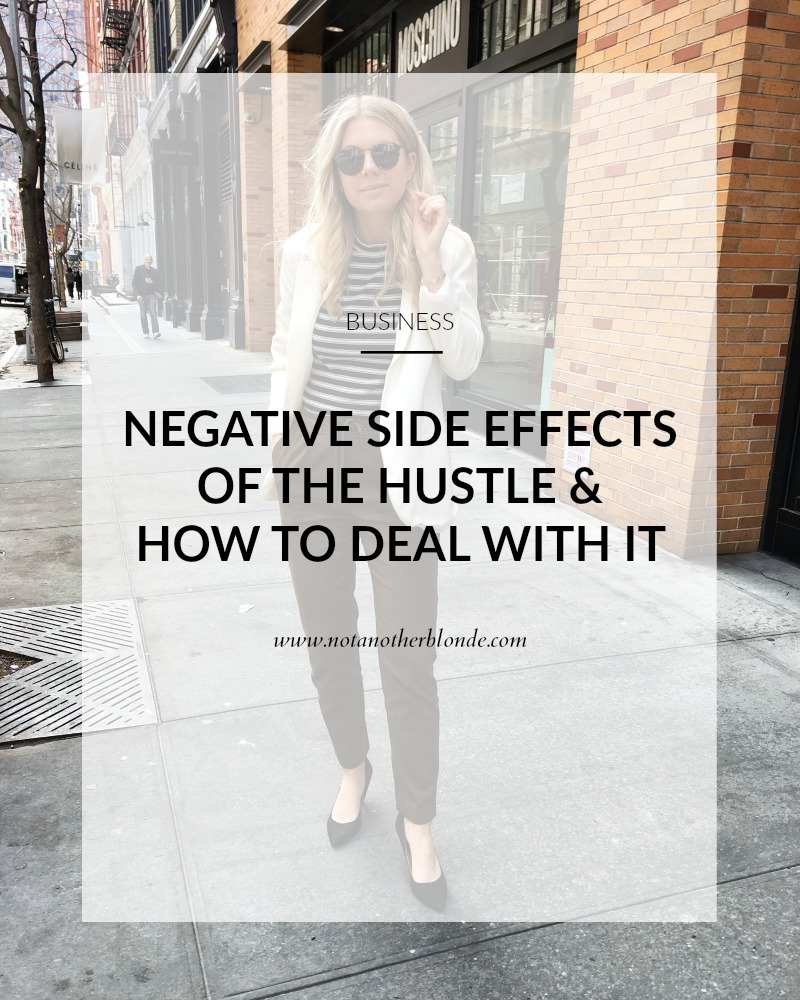 At some point or another, every successful entrepreneur experiences the negative side effects of the hustle. Every day is not smooth by any stretch of the imagination and usually what you expect to happen does just the opposite. So you have to be a chameleon and change with your environment otherwise you will get chewed up and spit out.
If you don't experience any backlash from your hustle, then you're not hustling hard enough. Sorry, but you're not. As the saying goes, anything in life worth having doesn't come easy. The hustle is no different. You'll have to make sacrifices, you'll realize your job is never done, and you'll compare yourself to everyone else around you… but that's normal. So let's talk about it, shall we?

If you are fully committed to making your side hustle work, you will 100% have to make sacrifices… like a lot of sacrifices. But that shouldn't scare you because you have control over what and how much you sacrifice.
I'm also not saying that you have to give up your entire life if you want to succeed, though, the more time and effort you invest in something, the more you will reap the benefits from it.
You can have it all, just not all at the same time.
At different stages of your life you'll feel more called to do certain things than others. In your 20s you may be focused on your social life, in your 30s you may be starting a family, in your 40s you may commit to traveling, 50s going through a mid life crisis (kidding, sort of)… you get the picture.
The point is that if you really want your "big idea" to work, it needs to be at the forefront of all these different times of your life despite what everyone else your age is doing.
For example, when I was in my early 20s I knew I wanted to do something "big", but I also knew I wanted to "live it up", travel, and have fun because I thought your life ended after 25. Turns out, life is still good.
However, I really do believe my life could have been even better now had I hustled my ass off during my early 20s instead of wasted them getting wasted, (hi mom! Just kidding I've actually never been a big drinker).
Anyway, had I blogged a little longer, researched a little harder, and invested a little smarter I would probably be much further along than I am now; but then I wouldn't have had all the experiences leading up to right now. So it's really just give and take and a game of sacrifice.

As an entrepreneur/blogger, your job is never done. There's always one more email to send, one more piece of content to edit, one more video to create… it never ends! This can literally consume you and you can become obsessed with "making it", which is both a good thing and bad.
You could work around the clock 24/7 365 and STILL have something to do. This means it can be hard to relax because you're thinking of what you should be doing. Even reading a self-development book becomes a task, despite it being educational.
The reality of running a business is that because the majority, if not all, the responsibility is on you, you always want to give your best and be the best. And being the best means dedicating a lot, a lot of time.
There are always ways to expand and grow your business. It's kind of addicting actually. And if that's not something that interests you then you have to find a way to shut it off and be satisfied because like I said, your job is never done.

The thing about being an entrepreneur is you're your own boss. You're the founder, CEO, customer service representative, content creator, sales department, and creative director. This means you always have to be on your A game and keep an eye on your competition, which is both proactive and dangerous.
When you see your competition doing cooler things than you with higher quality content, it can be super discouraging. It's easy to fall into the trap of the comparison game and feel like you're not worthy enough.
Plus if your competition "beats" you, you go into the blame and complain game and totally rip yourself a new one for letting it happen. That's a lot of… stuff to deal with!
On top of all that, you're also in competition with yourself. You're always looking for ways to improve, innovate, and expedite your content/business. That in itself is a full-time job trying to keep up with everything.
It's exhausting to say the least. But here's the thing, there will always be someone above you and below you so cut yourself some slack and know that comparing, complaining, and competing will get you nowhere.
What is your biggest blogging challenge? Tell me in the comments below!
xx