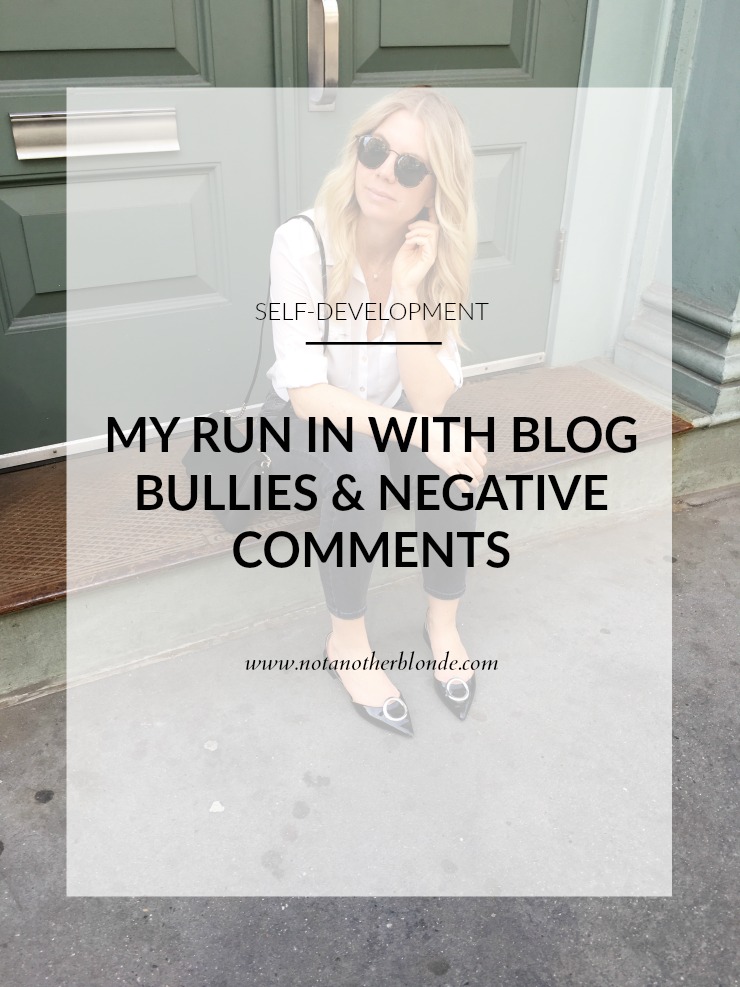 Maybe it's me (receives 3 negative comments and plays the victim), but in the past month I've been bombarded by "blog bullies" and negative comments about stuff I've written. And I have to admit I'm shocked, confused, and hurt.
Like, in my mind I'm not talking about anything super controversial like politics or religion, so how could someone possibly be offended by what I say?
Well, it's happened and I'm actually quite sensitive to it, which is ironic because I'm such an advocate for sucking it up and having a thick skin…
Anyway, my most recent run in with a negative comment happened the other day on Instagram when another blogger publicly "shamed" me for telling her to quit blogging. I'm sorry what?!
When did I ever tell anyone to quit blogging?!
Turns out this blogger was referring to a post I wrote for Zanita but I had no idea what she was even talking about before I put the pieces together.
So technically yes, I wrote a post about knowing when to quit blogging but nowhere in the article did I tell her to quit. I actually said if you aren't happy (she said she was happy), growing (she has 100K+ followers), or making money then it might be time to try something else. I also closed the post with this:
Ultimately the only person who can decide if/when to quit blogging is you. No one can sit here and tell you what's best for you because they don't know… but you do. You are the only person who can assess your happiness, growth, and income. And once you do those things, you'll know whether to keep grinding it out or move on to the next one.
So, had this blogger fully read the article, she may have thought twice before trying to embarrass me with a negative comment. But she didn't and the damage is done.

Unfortunately, there is no solution… as the old saying goes, "hatas gon' hate". People are going to love you, people are going to hate you, people may start out loving you but then hate you, or people may start out hating you and then love you; you just never know.
What I do know is I'm going to keep being me and you should keep being you, (unless you're a total asswad then you might want to change that).
Now, I could play it safe, be boring, and not share an ounce of my bold, sometimes unfiltered personality, but that's not me. I choose to live a life full force and if you get "offended" or read too far into something because you're bored or having a bad day, well, that's on you.
Don't project your negative feelings and insecurities about yourself and your blog/business onto me.
The beauty about the world is we all have different opinions. If we didn't challenge the way each other thought, then we would go around thinking our way of thinking is the only way… of thinking. And that's pretty egotistical now isn't it?
So I guess there really is a solution and that is YOU.
Don't give the haters more attention than they deserve, (I could be calling this person out right now but I'm not, she's not worth it). Take every negative comment with a grain of salt because it comes with the territory. The bigger you get, the more blog bullies will have something to say about it, that's just the way it is.
Let it go like frozen, honey. You're better than that.
**Final PSA: If you are ever hurt, and I mean genuinely hurt, (not just looking for someone to use as a punching bag), by something that I write/say please send me a private message expressing your concerns and hopefully we can work through it.**
Have you ever experienced a blog bully or negative comment? How did you deal with it? Comment below.
xx