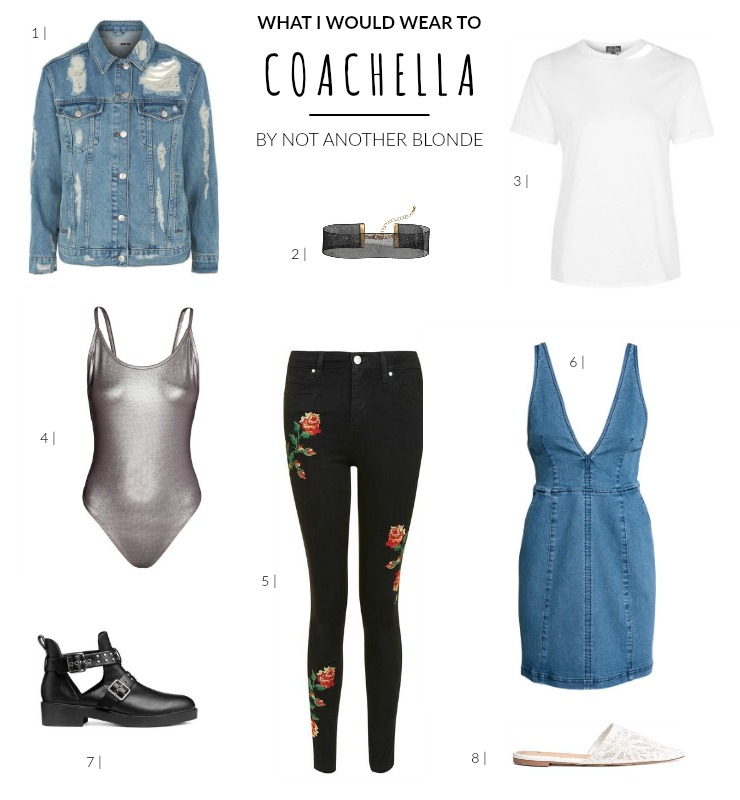 I've never been to Coachella but like every other fashion girl, I'm dying to go. Anyone want to give me tickets? Please? Anyone? No? Ok. Regardless I'm still wishful thinking over here and planning my outfits for when I finally do go.
I kept the majority of the outfits simple and practical because, well, I like to wear my clothing more than once so there's that. I also consider my style relatively simple and I won't shy away from that no matter what event I do or do not attend. With that being said, enjoy my simplistic, affordable, yet fun Coachella 2017 outfits…
1 | I would 100% wear this distressed denim jacket with… everything, but more so with the black embroidered jeans and metallic bodysuit. The mix of denim works really well.
2 | There will be so many chokers at Coachella and if I were going I would be one of thousands of people wearing one. I like the mesh material of this H&M one from the Coachella collection.
3 | Doesn't every fashion girl need a white tee? This one from Topshop is a little more funky because of the "slashed" neckline which I thought was very Coachella-esque.
4 | This metallic bodysuit from H&M is everything and I would wear to every single concert I ever went to. I love it!
5 | Embroidery is a bit of a fad, however, it's always comes and goes so I think it's safe to invest in it at this point. This pair is from Topshop (aka the only place I buy jeans from).
6 | You can never have too much denim at Coachella. I love this 60s-70s jumper dress because it's long enough where it covers my ass but shows enough off where you still feel sexy and festival-y.
7 | Flats, particularly flat ankle booties, are a must at Coachella. These black ones from H&M are great because they work for practically every season.
8 | At first I didn't like these white lace sliders, like at all. Then I really saw the potential in them and I think they'd be a nice little surprise on your feet if you paired them with the denim jumper dress and white tee.
Have you ever been to Coachella? Tell me in the comments. 
xx

My 4 Favorite Outfits from March