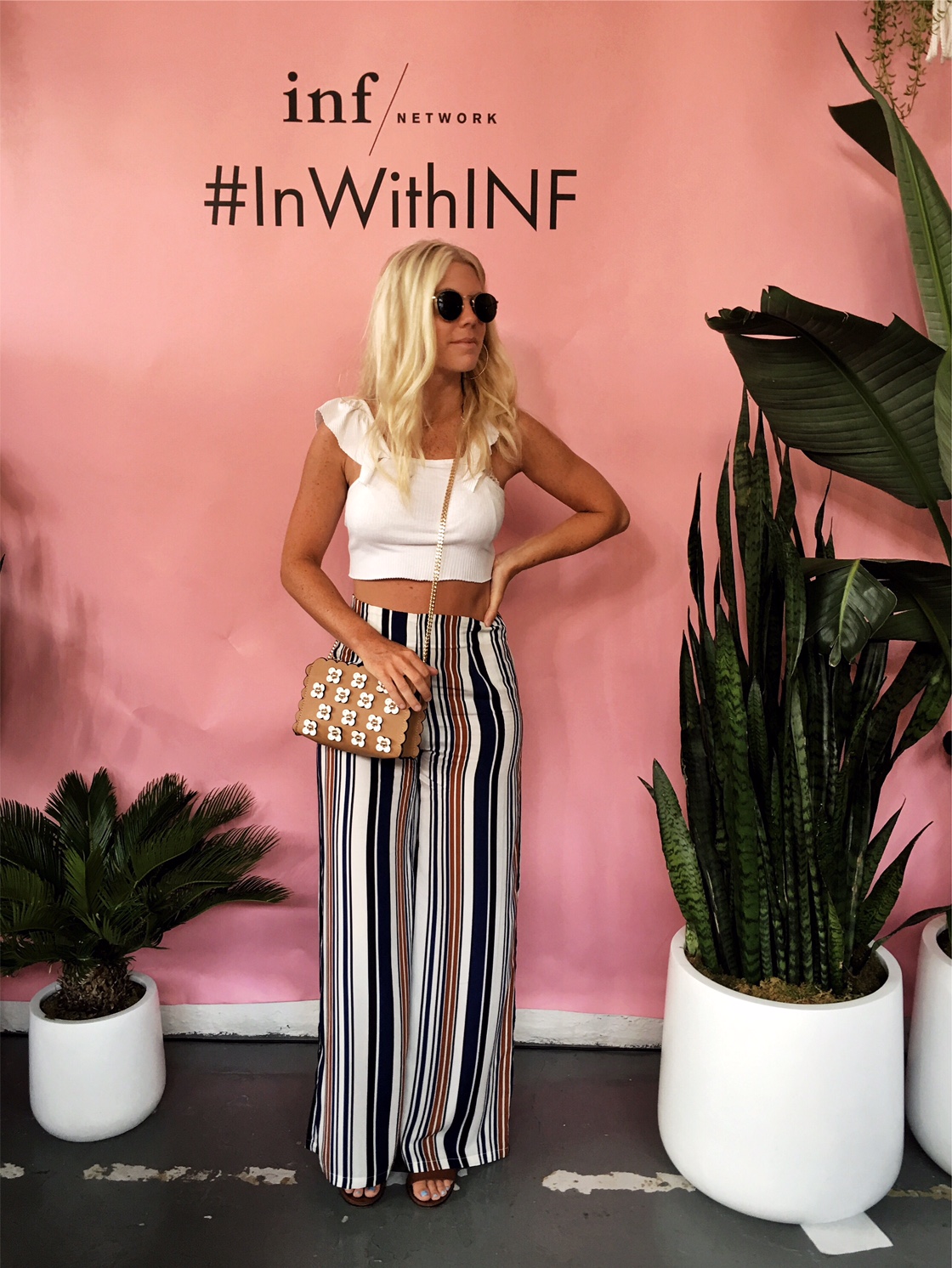 Before I moved to New York I made a vision board. I was living at my boyfriend's mom's house, sitting on the floor, using our bed as a table, (which was also on the floor), to make a vision board.
I remember thinking I'd think back to this moment when my vision board finally came to life… and I was right. But I didn't realize it right away. When I got the invite to the Who What Wear event, I actually wasn't sure if I wanted to go.
I think very carefully before I go to any event. Time is money so if I'm going to invest my time in going to an event it has to be worth it. Most bloggers will disagree with me and say that all networking events are opportunities and I'm sure they are but I like to be a little more selective.
I saw Hillary Kerr (Co- Founder of WWW) was going to be on the panel, along with Raissa Gerona (Co-Founder of Alliance Apparel/Chief Brand Officer @ Revolve), Rachel Zeilic (Creative Director of Majorelle), and, wait for it… DANIELLE BERNSTEIN of We Wore What. (If you couldn't guess, I'm a major fan girl of Danielle, like major.)
So then I thought, ok well if this panel has all these badass babes on it, this event has to be worth it so I decided to go. As I'm in my closet/office/home gym, I'm picking out my outfit and I turned around to look at my computer and right above it is my vision board and at the top is a cut out of the Who What Wear logo.
Holy shit. I did it.
—
Flash back to about 3 years ago when I was in the process of rebranding, I reached out to most of the editors at WWW for some advice. Weeks pass and I get one response, just one, but that one response was enough to change my entire blogging career.
Jessica, who was the Fashion Features Editor at the time, sent me this long elaborate email about my blog. She said my posts about fashion didn't really stand out to her but what did stand out to her were my posts about blogging. So, I took her advice and incorporated more blogging and biz tips and here I am.
Needless to say, Who What Wear always sneaks into my life in some way or another and I'm extremely grateful it does.
Ok now onto the good stuff… the insider secrets I learned from Hillary Kerr and the gang: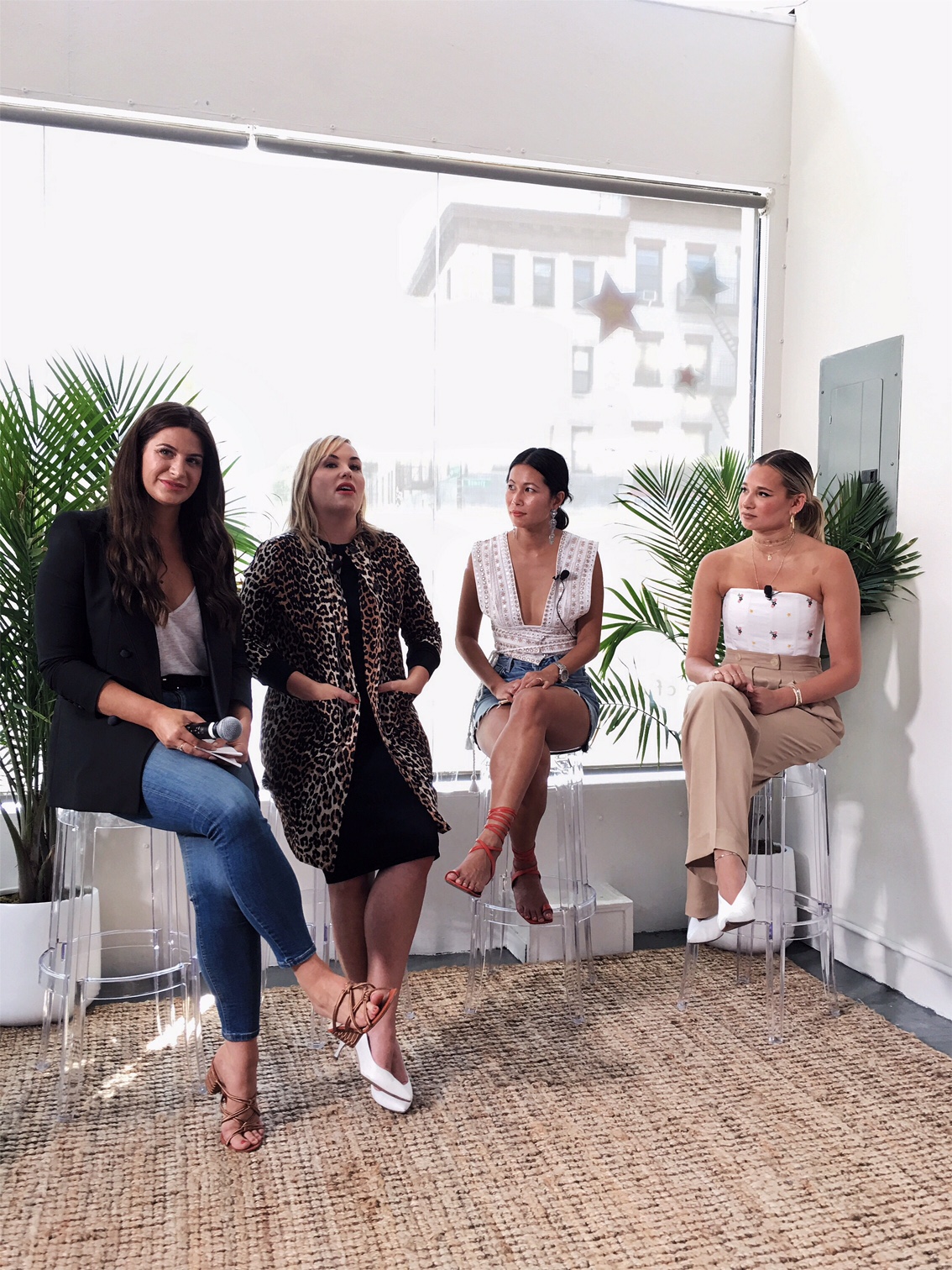 Before the event, I had only seen Raissa on big time bloggers' Snapchats and Instagram pictures. I didn't really know who she was or what she did. I just thought she was cool and now after seeing her in person, I think she's even cooler.
Raissa really stressed the importance of authenticity and considering she is the head honcho of Revolve, you should probably listen to her. She acknowledged something that most of us are too embarrassed to even talk about: "fan girling".
She didn't use those exact words but she did say that it's ok to fan out. No one is going to be upset if you tell them how awesome they are or how they've impacted your life. "Don't be afraid to show someone love", that's how the doors of opportunity open.
I absolutely LOVED that someone finally said it. As women especially we're always taught to play it cool and not get our emotions involved but like come on, no one is that cool. Like your favorite celebrity is sitting right in front of you and you're not going to flinch? Please.
I'll be honest, I was sweating, literally sweating when I met these ladies and fumbled over my words at least 5 times. But I was also authentic… and probably unforgettable in my 70's party pants and sweaty hands.

Obviously, this advice applies to bloggers/influencers but it also applies to those who want to get into fashion… or any field really. Social media is the new resume so Hillary says employers will, in fact, stalk you down and check your social media.
Raissa weighed in on this topic by saying that you want to focus on what you're about not what everyone else is about. For example, if Sincerely Jules posts a bunch of flower pictures that doesn't mean you should post a bunch of flower pictures. Sincerely Jules' brand is very light and feminine and she has a thing for flowers and if you don't have a thing for flowers, don't post them! This also circles back to staying authentic to you.
Today, influencer or not, your social media presence is hugely important. Employers, especially in the fashion industry, want to see what you're posting on social media so they can gauge if you're someone they'd want representing their company. So think before you post.

Danielle shed some light on staying professional in the industry. Blogging is no different from any other industry in that it's small, like really small. People talk and everyone knows everyone, so you better be on your best behavior at all times.
If you think brands don't communicate to one another about the influencers they've worked with, you're wrong. Danielle even admitted to having to explain to some brands why she was difficult on certain collaborations… I know, it was pretty cool to hear a mega blogger admit to being difficult, that's true alpha female status right there.
Hillary also chimed in and said you always want to come from a place of yes… to a degree, (obviously, if something isn't "on brand" don't engage in it.) She says she never brings a problem without having a solution. This is HUGE, like maybe one of the most important things I learned.
Bringing a solution goes so much further than just in the workplace.
You can apply it to your relationships, fitness routine, wellness, time management, etc. Today we're so quick to think 'Ok, this is the problem and there's nothing I can do about it'. Well, that's just not the case.
For example, a problem I have is time. So my solution was to wake up earlier, go to bed later, and hire an intern. Boom, problem solved.
A pro sees a problem and doesn't stop working until there's a solution.

Both Danielle and Hillary said being in communication with your audience/consumer is one of the most important aspects of the biz. Danielle says she always asks her audience what they want to see.  When season 2 came around for her clothing company, Second Skin Overalls, Danielle asked her followers to comment what types of overalls they wanted to see next. And lo and behold she made them.
Hillary said their best sellers from the Who What Wear Collection are the pieces that are suggested by their consumers/readers. If you think about it, it makes total sense, you won't shop somewhere that doesn't have the things you want so when brands take the time to ask what you do want, you better tell them.
And on the flip side, if you're on the business end and running your own company/blog/store, you should be talking with your audience every single day. Yep, every day. It sets you apart, shows you care, and allows you to learn exactly what your consumers want. When people get what they want, they'll keep coming back for more.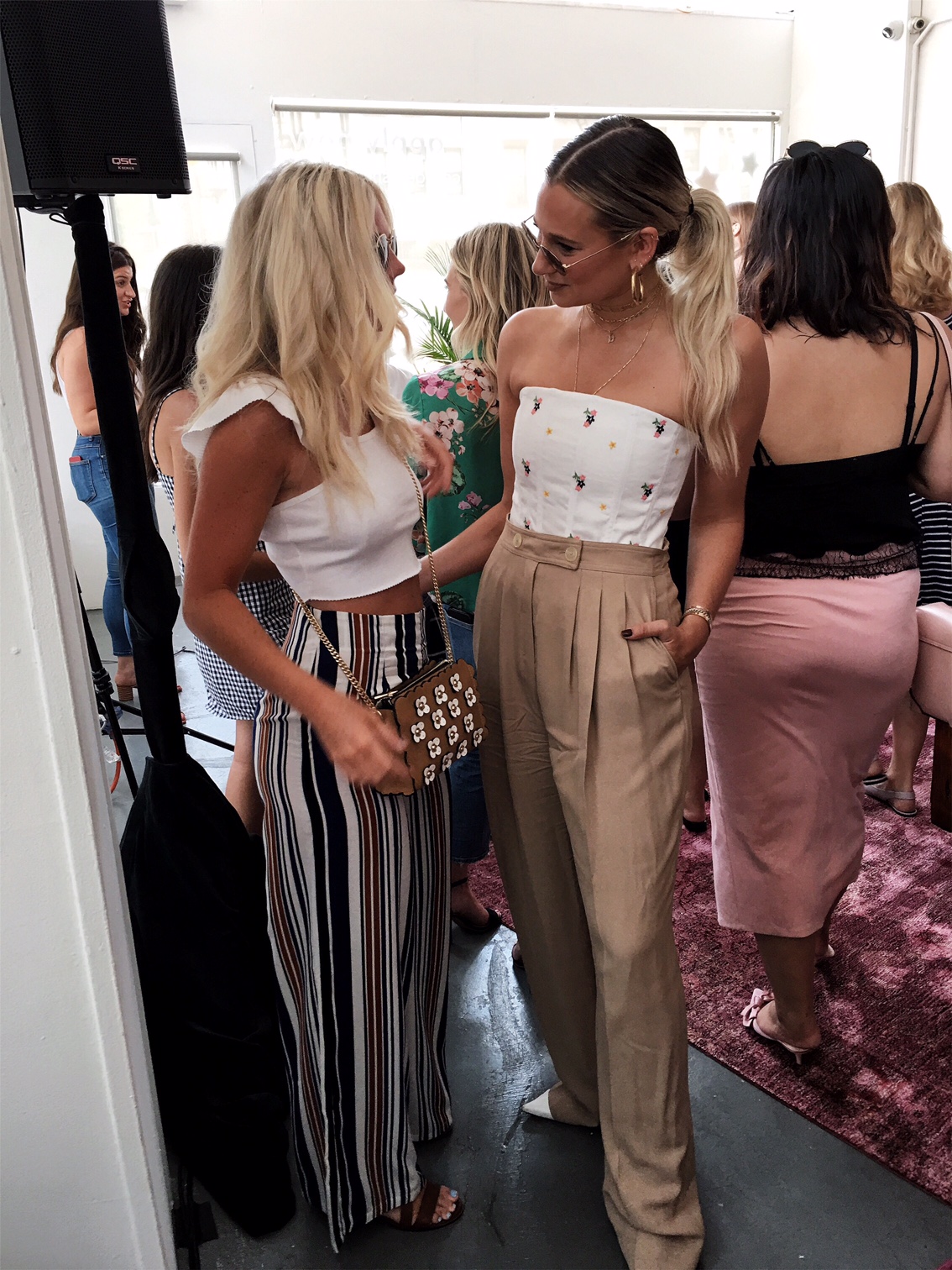 This was probably my favorite quote from the entire event by Miss Danielle Bernstein: "Hustle 'til your haters ask if you're hiring". I've never heard it before but it's so empowering and inspiring, isn't it? Makes me want to go out and kick ass.
Anyway, Danielle shared something about life early in her blogging career that I never knew before. She said she would ask to borrow brands' clothing to shoot them. Umm… no wonder she is where she is. As bloggers, and I'm guilty of this myself, we feel we're deserving of the gifts because we're doing a service to the brand by giving them exposure.
But at the same time, you have to remember that brand awareness will only take you so far. You need conversions. And conversions don't happen over night. You have to gain your followers' trust before they buy from you. (Read this post on how to gain your audience's trust.) So if you're just starting a blog or have been blogging for less than 2 years, it wouldn't hurt to try this tactic by reaching out to brands asking to borrow stuff to shoot. If it's successful the brand may start to send you products on a regular basis and it may turn into a paid collaboration.
Borrowing isn't ideal because who doesn't want free shit? But it's a start and it's something that many beginner bloggers don't do. This alone will grab a brand's attention. It's hard work but that's what it takes if you really want to make it as a blogger.
All in all, this event was by far the best one I've gone to and I'm so grateful for the opportunity. (Shout out to Cara from @goldalamode for sticking it out with me, I would have been lost without her.)
If you could chat with any of these beauties what would you ask them? Be sure to specify who in the comments. I may or may not have something special brewing. I'm also going to do a follow-up vlog so make sure you're subscribed on Youtube!
xx