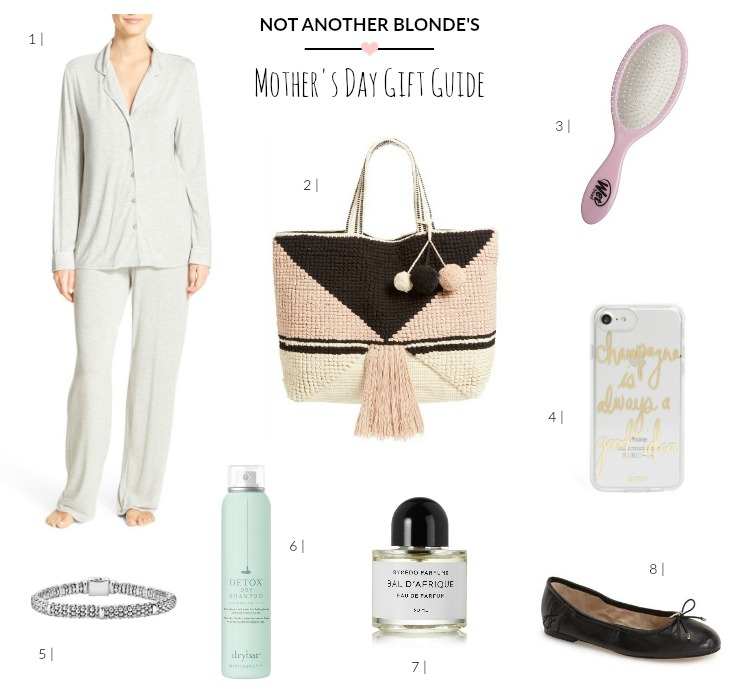 I made this guide with my own mom in mind. Believe it or not we're complete opposites. We have the same mannerisms and say the same things at the same time but when it comes to clothing, skincare, home decor, and movies, you wouldn't know we were related. She's actually a girl and I'm… like a tomboy to some degree. She likes pink and ruffles. I like black and fringe. You get the picture. 
So, this Mother's Day I decided to make a gift guide geared toward how moms should be… like my mom. I'm kidding… kind of. But seriously, if your mom is anything like mine (girly, sweet, loving, and cleanly) then she'll love any of these gifts.
1 | My mom's exact words for this Mother's Day were "I need comfy jammies, you know, like lounge-y stuff." Well, it doesn't get comfier than these Moonlight pjs.
2 | Even though I'm the fringe lover of the family, my mom has taken an interest in these boho beach bags and I couldn't be happier because it's a gift that we can both use. I don't even mind it being pink!
3 | A wet brush is every woman's best friend. I just discovered them recently and shared the whole experience on Snapchat. Your mom won't know what's coming when you get her one of these… trust me!
4 | This Sonix phone case speaks for itself. How cute?! This is definitely for the bad and bougie moms out there.
5 | You can never go wrong with jewelry on Mother's Day. I feel like moms are more silver than gold-ish which is why I included this timeless Lagos bracelet. It's so beautiful and affordable.
6 | I recently turned my mom onto dry shampoo and Drybar's Detox has been her favorite thus far. It smells "heavenly" as she would say.
7 | I just read an article that said Byredo Bal D'Afrique was Victoria Beckham's signature scent. It doesn't get more hot mom than that.
8 | I actually got my mom these Sam Edelman flats for Christmas and she's wears them all the time. Again, they're classic and great for moms who are on their feet all day.
What are you getting your mom for Mother's Day?
xx

 The Perfect Spring Blazer Under $40
What to Wear for Unpredictable Spring Weather