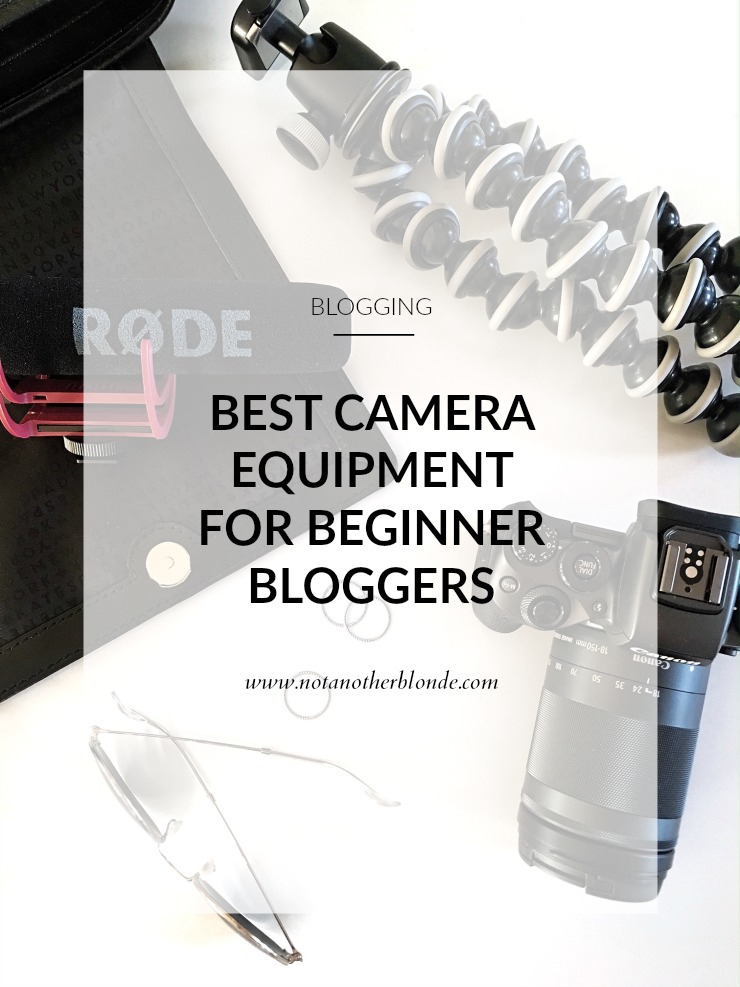 Now that I've officially stepped up my camera game (be sure to add me on Snapchat: notanothrblonde for BTS action), I can talk about what I would have done differently as a beginner blogger searching for camera equipment.
Let me start by saying I have spent hours upon hours researching the best cameras for the things I want to do and I, along with every other blogger, am sad to report that there is no perfect camera.
Canon nor Nikon nor Olympus makes a camera that is suitable for every situation. In fact, from a business/entrepreneurial standpoint it's quite brilliant because it gets people like us to buy all these different cameras, lenses, gadgets, etc. until we have as much stuff as the store…
When you reach the pro level, sure, that might be the case but for now you just need the basics. In fact, I'll do you one better, I'm going to share the bare minimum camera equipment for beginner bloggers plus the next step up for those of you who just want to dive right in.

I've heard over the years that the camera doesn't matter nearly as much as the lens. While this is true, if you're setting out to be a photographer and really want to master that skill, then the camera matters just as much as the lens. However for beginners, you really just need a killer lens and an ok camera.
Currently, I have a Canon EOS Rebel T3i with a 50mm 1.8 lens. Had I known what I know now about cameras I would have gotten a little higher quality of a camera just so I wouldn't have to switch later on, which is what will happen unless you have the money to dish out for the top of the line equipment right when you start.
Looking back, I probably would have gone for the Canon 7D Mark II since that's what bloggers usually upgrade to anyway. I don't see a point in learning one camera then another then another.
However, for bloggers on a budget, the Canon 7D Mark II isn't affordable, which is why I went for the Canon T3i. I still have my T3i and use it primarily for my blog photos because like I said before the lens matters more than the body (for me at least) and I have a great lens.
The 50mm lens is incredible for all bloggers (beginner or pro). It's cheap ($120 or so) and gives you the blurred background (bokeh effect) all bloggers strive for. Get it, it's great.
Though, I will admit that most of my Instagram and blog pictures are taken with my iPhone. The iPhone has come so far that the quality is just as good as a DSLR's. Now the iPhone 7 camera has a setting where you can actually blur the background.
A blogger friend of mine posted this stunning picture on Instagram and I said "omg you got a new camera, what kind is it?!" and I was shocked when she said it was the iPhone 7. I literally had no clue.
However, I'm sure if you asked a pro photographer they would be able to pick things out that we can't but since you're a beginner, either the t3i or your iPhone will do just fine for blog pictures.


I thought I would be able to use my T3i for videos as well… which I can but since the lens is "fixed" (can't zoom in or out), the camera has to be super far away otherwise you only see half of my face. Putting your camera far away for videos is annoying because 1. The sound quality won't be as good unless you get an external mic and 2. It's a pain in the ass to get up every 5 seconds to adjust things.
That's why just recently I got the Canon EOS M5 with the 18-150mm lens, a rode video mic and Gorilla tripod. I learned my lesson last time and just went all in and got what the pros use. This camera is best for vlogging because it's small, lightweight, and relatively easy to use. But it's actually a more expensive than the T3i, despite it being smaller. For me, the quality was worth it and so far it's been the best investment I've made.
I chose the Canon EOS M5 after like 20 YouTube video reviews. I looked at what the king of vlogging, Casey Neissat used and beauty vlogger Alex Gargazano and they use the Canon M5, which means I'm in good shape.
Conclusion: Go with Canon, always. Regular blog photos can be done with a canon rebel (any series) or the iPhone. Vlogging is best with canon eos m3.
What camera do you use for blogging? Share in the comments!
xx

 3 Things Every Blogger Needs to Make It
 My Love/Hate Relationship With Loop Giveaways