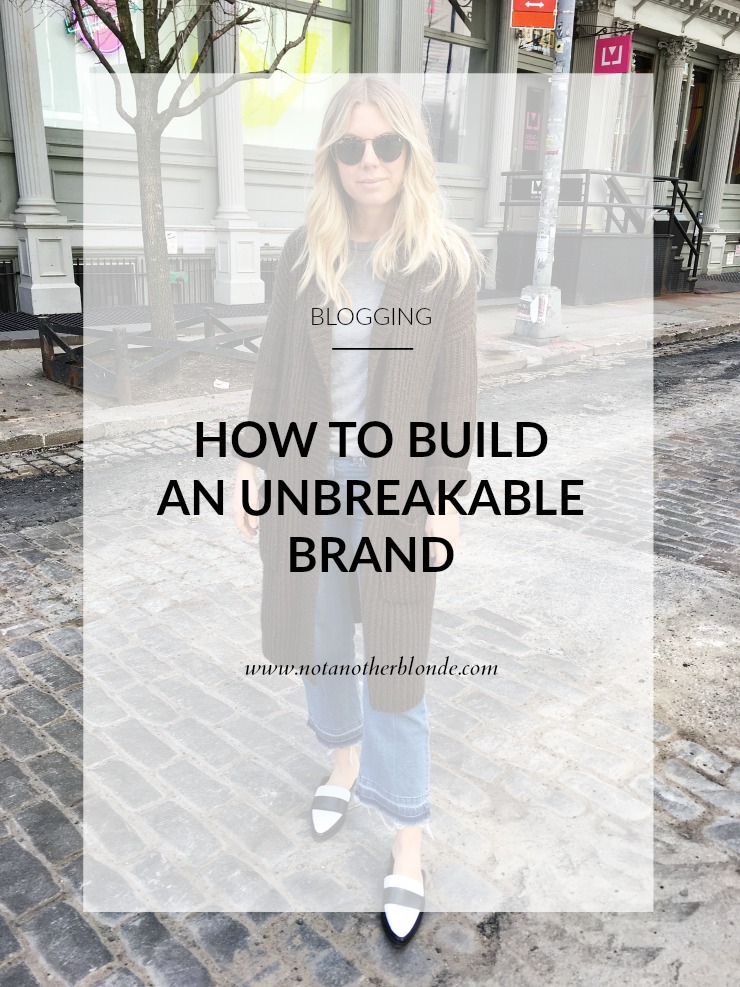 Bloggers aren't just bloggers anymore, they're influencers with their own brand identity. Now if you want to stand out you can't just have pretty pictures, you have to be the jack-of-all-trades. You need to have marketing, sales, customer service, and management skills. This might scare a lot of bloggers but whether you like it or not blogging IS a business now and it's only going to get more defined.
We're in an interesting time right now, we have the most opportunities we've ever had, yet there is an overabundance of everything which makes being "unique" more difficult. Everything has already been done, so instead of trying to come up with something new, fix what's not working. Be the "fixer" brand that your followers go to when they want to be practical, save time, and/or solve a problem. Don't worry, we're going to talk about all that right now…

Your followers love practicality. Not everyone has the time, money, or motivation to do things that the pros do, which is why they're looking for practical advice, tutorials, and "life hacks". Attending someone's webinar because they made $500,000 in one night while they slept isn't practical. Consumers aren't stupid, they know by now there is no "get rich quick" scheme. They know if they want to play hard they have to work hard.
When you offer practicality, you'll attract a highly engaged audience willing to take the steps necessary for positive change.
For example, not all of us have 1 hour to spend in the morning contouring our faces with luxury beauty products. That's not practical. We also can't run around town in Louboutins and an All Saints biker jacket in 30-degree weather. What is practical is content geared toward mommies on the go or broke college students or commuters who walk to work in the winter.

Time, second to money, is the most sought after luxury. Yes, time today is a luxury. So when you get your point across in the least amount of time possible, your followers will thank you for it by becoming loyal customers. People are always looking for a quick fix so if you can give that to them, you're golden.
You also want to provide your followers with something that won't cost them time but save them time. For example, if you're a beauty vlogger, maybe you create a video titled "5 minute make-up routine". Right there your video is going to be 5 minutes (quick fix) and you're saving people time because it takes most women much longer than 5 minutes to do their makeup.
P.s. This doesn't mean you want to skimp on valuable content for fear of saving your followers time. This means you want to get your point across in the least amount of time possible so if that means removing 1 picture from your blog post that isn't necessary or cutting a video down to 5 minutes instead of 8 or combining 3 sentences into 1… do it! As long as you're not removing super valuable stuff. We really like that valuable stuff.

I see a lot of bloggers with really good ideas or really great content but they miss the opportunity to solve a problem. Having your content solve a problem is crucial to building an unbreakable brand.
Don't think you have to be a rocket scientist, but you should solve a problem within your niche, even if that problem is so minute, odds are if you're having this issue, a lot of other people are, too.
The reason this is so important is because people search and search for answers and remedies that will make their lives easier. Whether it's a 5 minute pancake recipe or how to shop on a budget or a workout routine for busy moms… if you solve a problem certain people are having (because not everyone will have the same problem), then you will win their hearts forever.
Your followers will then talk to their friends and family about how you changed their lives, which is the best type of PR you can get.

The final step in building an unbreakable brand is the ability to be interesting. Sure, everyone is unique and everyone has their own story but not everyone is interesting enough to hold the attention of their followers. It takes a really special person to gain and maintain people's attention.
Think about the people you follow and why you follow them. You most likely find them interesting in some way, shape, or form. Now think about yourself and what you offer to your followers… is it interesting? Are you interesting? Are you entertaining? Are you a great storyteller?
If the answer is yes, then great, you're on the right track. If the answer is no, you may want to reconsider what you're doing and why you're doing it.
What has helped you build your brand? Tell me in the comments below! 
xx