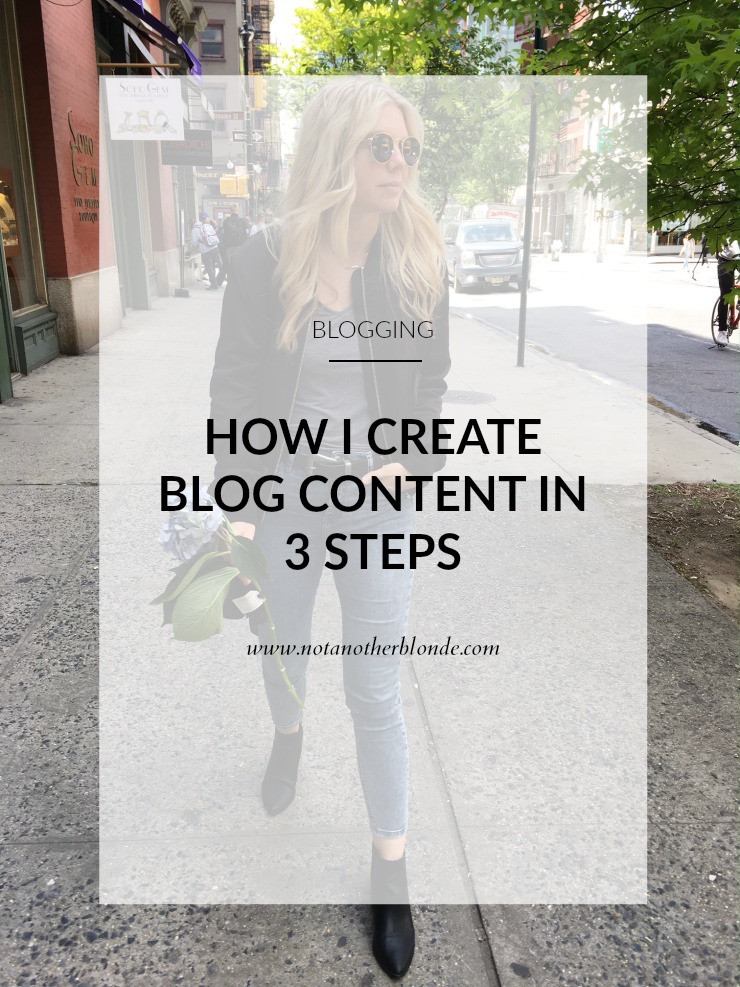 I can't believe after 6 years I've never talked about how I create blog content. It's something that not a lot of bloggers talk about because, they're so busy creating they forget there's even a process involved! But don't worry, Britt's got your back. So today I'm going to take you step by step into the exact content creation process I use. 

There are a few different definitions of a content calendar. But what I'm talking about is a general term used to describe your system in place for the week. And maybe you don't have one, which is fine but I promise you having one will make things a lot easier for you.
For example, my content calendar goes as follows: Monday – Fashion post, Tuesday – Blog/biz tip post, Wednesday – video, Thursday – Zanita, Friday – Interview or Wonder Forest post. My days are laid out the same way month after month so there's no questioning, 'ok what am I doing Monday', I already know I need some sort of fashion post.
From here you fill in the days with content you need to post (brand collaborations, the continuation of a series you're doing, etc.). Then you just have to fill in the empty days with content that is specific to what you've designated for that specific day (i.e. Monday = fashion post).

Between brand collaborations and holidays, there may be weeks where there isn't enough time to cover all the content you want to. When you get in the habit of looking ahead and plugging in posts here and there it makes things a lot easier when the time comes and you actually have to create.
Almost every month has a holiday, season change, or special event. For example, in May you have Mother's Day and Memorial Day. If you're a lifestyle blogger you can create a Mother's Day gift guide on one day, where to take your mom on Mother's Day on another day, things your mom has taught you on another day, etc. There is so much content that can be made from Mother's Day and that's not even a major holiday!
Another great month for fashion bloggers is February because it's "fashion month" plus Valentine's Day. The only month you might have an issue with is June… not much going on in June!

This is the most important part in the content curation process. You can have all the content in the world ready and planned out but if you don't have an action plan as to how it's going to happen… you're SOL.
Your action plan should include when you're going to write the post, when it's going to go live, and how you're going to promote it. This will be different for everyone and you have to find a schedule that works for you.
Not all of us are night owls and not all of us are morning people so you really have to test out when you're most productive and take advantage of that time every single day because odds are you won't have enough time in one day to compete it all.
If you're working a full time job, managing a family/relationship, and trying to maintain a social life, you will have to utilize every spare minute you have to your blog (if you want to turn it into a business). With all that going on you will most likely have a free hour here and there so it's important to have just one thing on your to do list that you know you can finish in that time.
That way you'll be making progress each day instead of writing down goals that will take a day to complete. Go in and reorganize your goals into steps.
For example if your goal is to get more collaborations, the first step in making that happen is to acquire brands' email addresses. That could be the one thing on your to do list for a specific day during the week where you only have an hour available.
Then the next day you would craft an intro email. Then the next day you would make a media kit. And the next day you'd send your email to all the brands you picked. That is a super attainable daily action plan.
The bottom line is you have to find your groove. Like I said earlier everyone works differently, but I'll tell you one thing that everyone works better when they're organized. The better prepared and more organized you are, the easier the content curation process will be.
How do you create content? At night? On the weekends? In the morning? Tell me in the comments below! 
xx