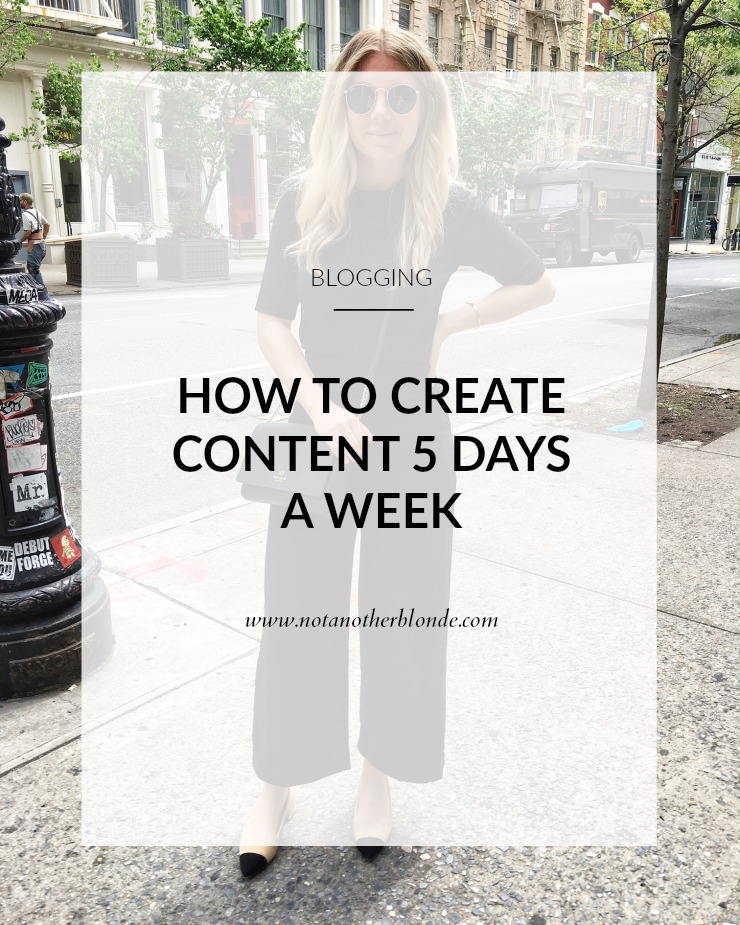 If you asked me a year ago about how often I thought bloggers had to post to stay relevant I would have said once a week. While I still think you can get away with one blog post a week, I don't think you can post once a week on all your outlets (Instagram, Twitter, Facebook, YouTube, etc.) and expect to gain a large, loyal, engaged audience.
Now that I've been blogging for what feels like 100 years and given the state of the "market" (such an official term I know), I can say with confidence that you need and I mean need, to have content ready for at least 5 days a week. If you aren't active 5 days a week, you risk being forgotten about.
But don't panic, because I have a few tricks up my sleeve that will make pumping out content 5 days a week, a piece of cake. Ok, maybe not a piece of cake but maybe like a piece of gluten free pie so you'll need to put a little work in on your end, which as a determined blogger, you should be used to by now.
Usually, after I plan my content for the month in my planner (get my favorite planner HERE), I break down each blog post into 5 new pieces of content to use for the rest of the week.

Sending out an email newsletter is an extremely undervalued strategy most bloggers don't even think about. It's an easy way to create content on days you don't have anything planned.
For example, some people have slow days during the week (usually Fridays) and maybe they can't get around to posting content anywhere else so a newsletter would be a great filler because it takes little to no effort. I mean of course you don't just want to randomly throw something together but newsletters take less time to prepare than a YouTube video or blog post.
If you're going to go this route (and I suggest you do), sending your newsletter at the same time on the same day each week is key so your followers can anticipate it. In blogging, consistency is your best friend.
I also suggest taking an idea from one of your blog posts from that week and expanding on it in your newsletter as exclusive content. Not only is it a way to give one last push on your blog posts from the week but you're rewarding your most loyal followers by creating brand new content for email subscribers. It's a win-win.

Instagram pictures are the most obvious way to create content 5 days a week. It's the hottest platform to date plus it's the best way to be discovered by brands and new followers. And for your current followers, it's the best way to stay in touch and stay relevant. Here are my 3 favorite ways to integrate Instagram pictures into your daily routine:
OOTD
I am such an OOTD advocate because it shows the behind the scenes look of an editorial (more professional photograph/campaign). OOTDs are your everyday outfits that you actually wear. Literally, you just find a good place to shoot, grab a friend or coworker and take a picture, edit, and post to Instagram, that's it! Honestly, I prefer Instagram outfits over things that are too curated on the blog because it's practical and usually not over the top. An OOTD Instagram pic is content you can do every single day… as long as your outfit is Insta-worthy.
Flatlay
Flatlays are a great go-to for the days you don't have an OOTD aka you're having a bad hair day, sick, have nothing super exciting to share. I also love flatlays for brand collaborations. If you're gifted something from a brand, flatlay it! If you want to share your latest obsessions, flatlay it! If you're working on an exciting project, flatlay! They're the best and easiest way to create content for Instagram.
(Let me know if you want to see a flatlay tutorial in the comments!)
Quote
Another Insta pic idea is to use a quote from any of your blog posts. There's no use in wracking your brain thinking of some groundbreaking quote or statement. Just skim some of your blog posts for something that stands out and turn it into a quote for the 'gram. If you take a quote from that week's blog post you can use the image as promo for your new blog post and direct them to your blog.
Using all 3 options in combination with the other once a week would actually give you  6 days of content!


Every time you have a new blog post or new anything for that matter you should be producing content in the form of teasers via Snapchat and Instastories. In combination with documenting your day, you could plug in promotion for whatever you want to push (blog post, Instagram picture, etc.) every day for the week which will give you content on those platforms. Doesn't get much easier right?
I will say that you want to make sure you're posting about more than just your new blog posts on Snapchat and Instastories otherwise, it will get boring and annoying after a while. For example, documenting your day is a super easy way to add different content to the mix. All you have to do is record where you are and what you're doing.  Your followers would love some behind-the-scenes action.

Once you have your blog post(s) for the week you can then turn them into videos or do an Instagram live recap. If you're feeling really ambitious you can do an Instagram live recap while recording yourself and then turn that into a YouTube video. You still with me?
There is no doubt creating videos are much more complex than blog posts or a quick Instagram pic but trust me when I say videos are worth the extra time you have to put into them. Like I've said before… video is king and if you want to build a long lasting brand you better start incorporating it into your content.
If you're not quite ready to take the leap into YouTube due to time constraints or otherwise, start with Instagram live since it literally requires little to no prep work. You just hop on and start doing whatever you're doing! I mean, obviously you should have some strategy behind your Instagram lives but for the most part, they're pretty straightforward.
What's your take on creating content? Is it easy for you? Hard? Do you want to know more about how to do it? Let me know in the comments below!
xx