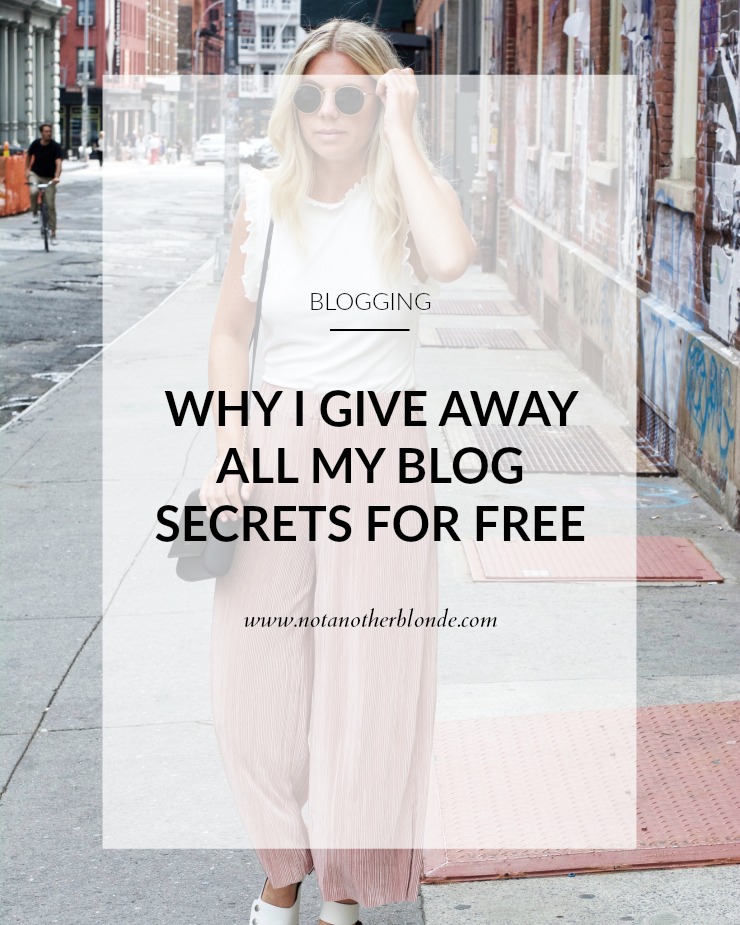 It's no surprise by now that I give away a lot of blog tips for free. Why? Because I want to. I have the mentality that the more you give the more you get so that's what I'm going by.
I see people like Tony Robbins, Tim Ferriss, Gary Vee, Oprah, and Ellen giving and giving and they never run out. In fact, they just keep getting bigger and bigger. So to me, that means giving is worth more than a short term "sale" if you will. My goal is and has always been to provide as much value to you as possible, all for little to no cost.
Am I losing money in the process? Oh yeah. A ton. But like I said, I truly believe this will benefit me and you in the long run. Here's why:

I've been blogging on and off for about 6ish years and for 4 of those years I learned everything the hard way. Growing your blog or business is the opposite of growing as a child. No one is going to hold your hand and tell you not to touch the stove because it's hot. In business, you're likely to touch the stove over and over again until your hand is scarred. And then you think "Hm ok, guess I shouldn't touch that stove anymore!". 
Blogging is super competitive and as sucky as this sounds, you'll probably get burned once or twice. There are other bloggers out there who want you to fail so there's more for them; more money, more opportunity, more fame, etc. (By the way, that's not how it works but whatever.)
When I first started blogging I reached out to every single blogger I knew and asked for advice (now I would say to do that, then offer something you can give them in return for their time).
Out of the… 30, 40, 50 bloggers I reached out to only about 5 responded but that was enough for me. I honestly thought every single person I reached out to would answer me back because why wouldn't they?
Well, they didn't.
So right then and there I made a commitment that I was going to help as many people as possible because I knew there had to be other bloggers out there who felt the same way I did: alone, overwhelmed, and confused.

I don't know if you know this but I was a teacher before I moved to NYC. And it was one of the most rewarding experiences because I got to see kids learn stuff, important stuff, that I taught them. I mean I had these Kindergarteners who knew nothing. Literally they didn't know how to sit in a chair or use scissors.
And I not only taught them to sit in a chair but to raise their hand, be respectful of their classmates, color in the lines (for the most part), yoga, and how to read and write. Like how cool is that?!
Their success was my success and the same holds true for every blogger or entrepreneur who reads my blog. If you learn something from me, use it for yourself, and yield results from it, that's a huge win for both of us!
There is nothing more gratifying than having someone tell you you changed their life or they accomplished something major because of you. Nothing.

Here's the thing: secrets suck. And for the most part, nothing is secret. So if you ask me something I'm going to give it to you straight, not some sugar coated version of what you want to hear or just a piece of the puzzle.
I'll give you the whole puzzle for free because if I don't do it, someone else will. And if someone else doesn't, you'll find it on your own soon enough.
This actually happened to me when I first started. Like I mentioned above I asked all these bloggers well thought out questions and from the 5 that responded only 1-2 gave me anything substantial to work with. The other advice was cookie cutter like "Be yourself! Be unique! Create good quality pictures". I would respond with "Ok that's great, but how am I supposed to do this?" and then I'd hear crickets.
If you're going to tell someone to be themselves, a constructive piece of advice would be something like "Write how you talk and don't post about something just because everyone else is posting about it".
When I first blogging I titled all my fashion posts with people names, not because I was super original, but because I saw Something Navy do it so I thought I should do it. Well, it worked for her but didn't work for me. So then I started giving my posts practical titles like What to Wear for Unpredictable Spring Weather.
My point is this: people are going to find out what they want to know eventually. So you can either do them the biggest favor of their lives and tell them yourself or send them on a wild goose chase and have them resent you later when they actually do find what they're looking for.
I'll tell you what, for the bloggers that didn't help me… I stopped following them completely. #sorrynotsorry If you don't have the time of day for me why should I have the time of day for you? One of my favorite quotes is "Invest in those who invest in you" and that's exactly what I plan to do for you guys.
What's your blog or business about? I'd love to know. Tell me in the comments below. 
xx