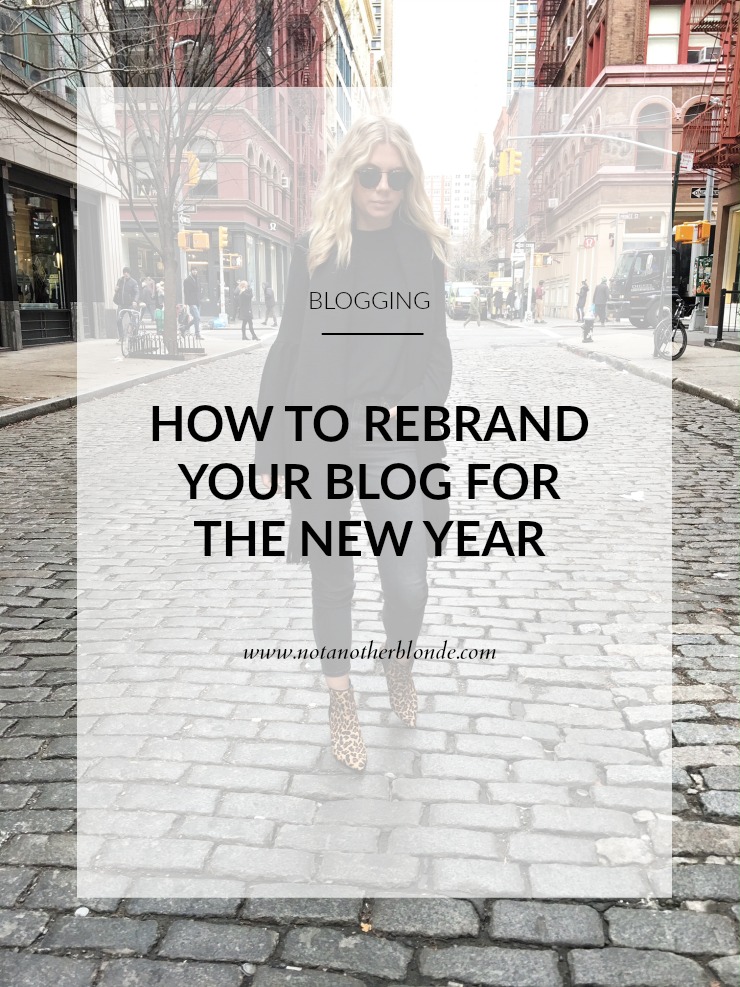 About 2 years ago I started the most amazing journey of my life: my current blog, Not Another Blonde. But I had been blogging on and off for 4 years before I decided to totally rebrand my blog for the New Year. I started with a blog called Brittoon In (it was supposed to be a clever play on "tune in" since Brittoon is one of my nicknames), which was strictly fashion.
Then I changed directions completely and I started another blog called Sheer Spirit which was mainly inspirational, yogi, and healthy living principles. At the time I was in a very spiritual place in my life so Sheer Spirit made sense.
Flash forward to 2015, the first week of January, and I rebranded my blog to Not Another Blonde. I was finally finding my voice, what my purpose in the world was, and I was ready to make my dreams come true without the stereotype of being another blonde blogger.
The point of that story isn't to take you down memory lane, it's to let you know that no matter where you are in your blogging career you can always rebrand yourself and start totally new.

If you haven't bought a domain name through a service like GoDaddy or Bluehost, the New Year is the perfect time to do it. You can finally get rid of your blogname.wordpress.com account and step into the big league with a blogname.com website. As the years change so do your interests so if you find yourself no longer aligned with the blog name you started with, change it.
On the other hand if you still like your blog name, but you're not as passionate about the topics you have been blogging about, pick a different niche. Like I mentioned before, I did this 2 years ago and it was the best decision I ever made.
When the passion from your creating is gone, your followers can tell. And at that point if you're not blogging for yourself and you're not blogging for your followers, who are you blogging for?
It's never too late to change you ur blog name or niche. If your content is good enough, the rebranding process will happen on its own and people will instantly recognize your new name.

Every 1-2 years I change my blog layout. This isn't as big of a deal as changing your blog name or niche because you want your blog layout to be fresh and in this case switching it up every so often is good. Your followers will get sick of the same layout so why not try something new for the New Year?
There are hundreds or thousands of WordPress themes out there that showcase different parts of your blog/business you never knew could be showcased before. Trust me!
The days of a Plain Jane blog with a post after post format are over. Now you can create feature boxes with your most popular categories, a contact button, your Instagram feed, Snapchat code, etc.
You want your blog to feel professional and up to date. And as long as your new blog layout isn't complex or confusing, you can change it every year if you want!

Probably the most important part of rebranding is picking and sticking to an aesthetic that is easily recognizable as your own. The Skinny Confidential, Fashionlush, and Happily Grey are prime examples of outstanding branded aesthetics. Whenever I come across any of their pictures I know whose it is. That is branding at its finest.
If you need to get some inspiration just browse Instagram. There are hundreds of thousands of bloggers and creatives on there to get ideas from.
Whatever you do you want your aesthetic to match your personality and brand. So if you're bubbly you probably want to go with an aesthetic that is bright and cheery. If you're more moody you want to go with darker and warmer tones like black, white, and grey. If you're a mellow midwesterner you want to go with lots of white with a boho undertone.
There are so many ways you could take your new aesthetic you just have to think creatively and logically about the message you're trying to send.
Final thoughts: Branding is so so SO important I can't stress it enough. Even I plan on kicking things up a notch in the New Year, (pay close attention). If you want to be a household name, you need great branding, period!
What are your blog plans for the New Year? Tell me in the comments below! 
xx