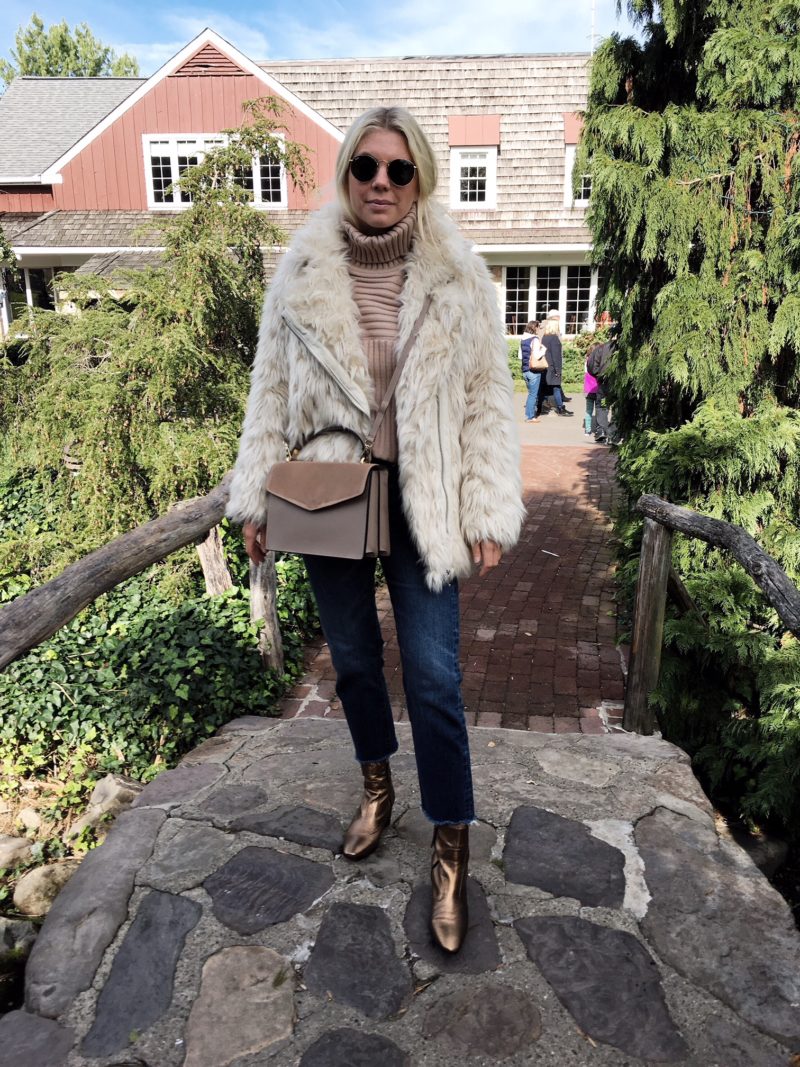 Last week I went into a faux fur frenzy on Instastories. Yep, that's right. I went ham on Instastories with the faux fur jackets. I don't know what sparked it, but I loved every minute of it because of the amazing DMs I got. You guys are so funny.  
Anyway, I don't know when it happened but my obsession with faux fur jackets is on another level. Faux fur jackets are one thing I'll invest a little more in (by a little more I mean over $50). I'll also buy a few of them, even if they're slightly similar. I think I have about… 8 faux fur jackets to date? And with the holidays coming up I plan on increasing that number.
Because faux fur jackets are so trendy I have to really really really love it to spend more than $100. In fact, I have one faux fur jacket on my Christmas list now (which I'll share later), that's $200 but I "have to have it". Aside from that, there aren't really any exceptions to my under $100 rule. I'll never understand shopping at luxury retailers for faux fur when you can literally get the same thing from Forever 21 or H&M for a quarter of the price. You can get 10 faux fur jackets for the price of one and no one will ever know the difference, so why not?
The jackets below were hand picked by me and most are under $50, which even surprised me, so enjoy! (And don't forget to tell me your favorites in the comments!)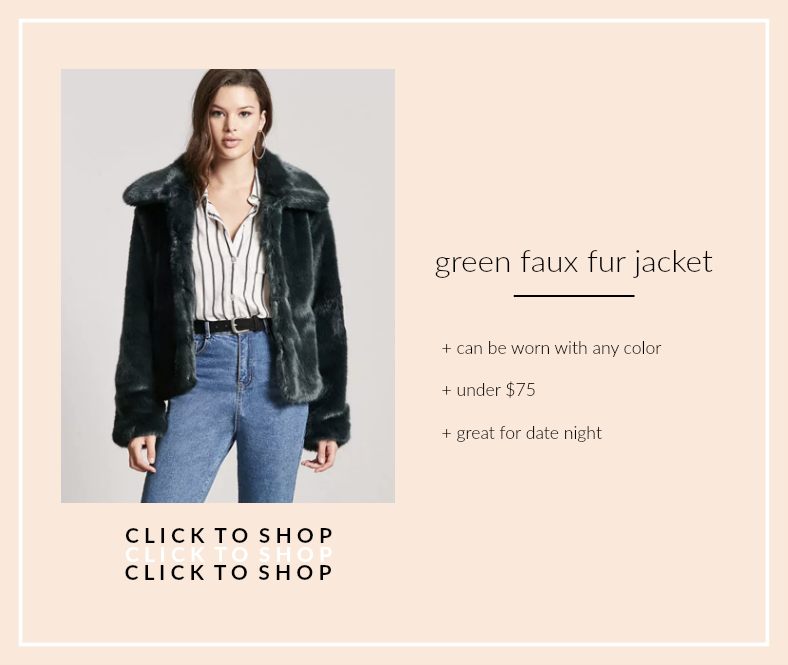 The other day I was in the bathroom and I spot this girl with a beautiful royal blue faux fur jacket. Yes, royal blue. I had never really thought I'd like any other color fur than something neutral like white, black, brown, or red (yes I consider red a neutral) but to my surprise I fell in lurve.
Turns out she got it from Forever 21 years ago. She said she's never gotten more compliments on a jacket like she did with this one. So my OCD sent me on a hunt to find something similar.
In my search I stumbled upon this gorgeous green cropped jacket instead. And apparently, I have a thing for green jackets because I blogged about it last year in this post! Again, I never thought I'd be into a hunter green faux fur jacket but here I am. When I polled you guys on Instastories you said to get it so… I got it.
I would pair it with an all-black look: black turtleneck, black jeans, black Gucci belt, and black booties. I think this bad boy will get a lot of use especially for the holidays coming up. Maybe even pair it with a little red sweater for a more festive look? We'll see…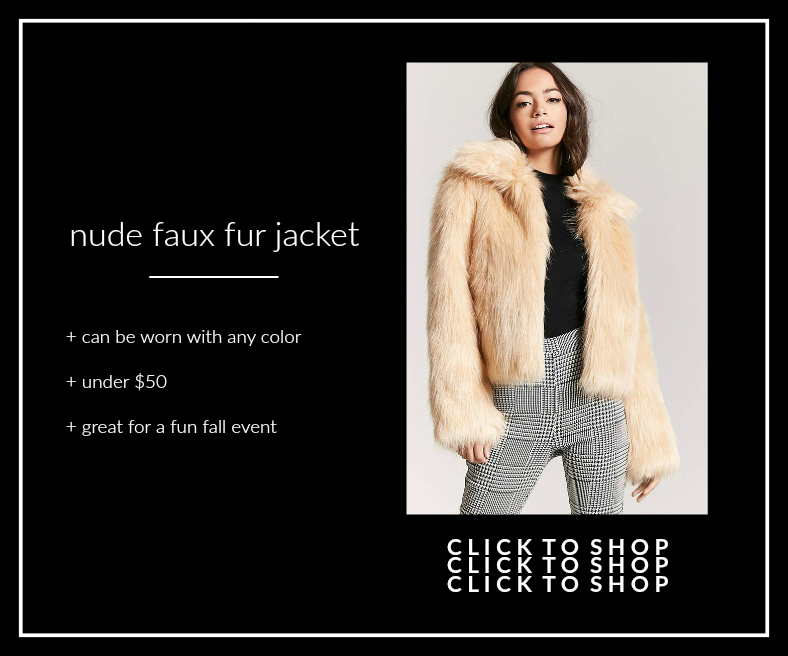 Similar to the green jacket, this nude one is killer… without actually killing anything (huge animal lover over here).
My only hesitation in buying this was the fact it was so similar to the green. Had it been a bit longer or had extra details, I'd get it in a heartbeat. It's still on my list though.
This nude faux fur jacket is the perfect alternative if green is too much of a plunge for you. Plus I think it's slightly more versatile than the green. I'm actually really digging the houndstooth/herringbone pants with it too. Way to go Forever 21!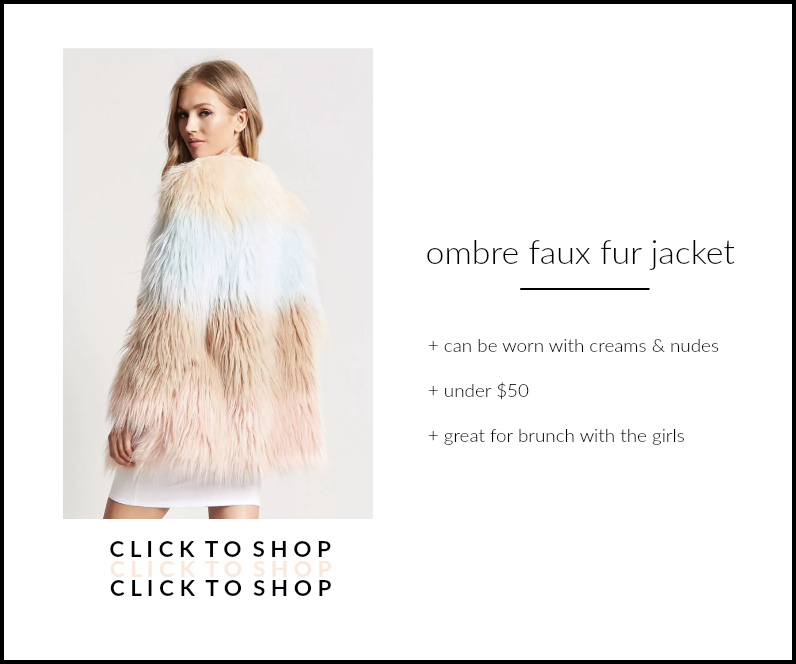 I'm not going to lie this jacket got mixed reviews on Instastories. It was split pretty much 50/50. People either loved it or hated it. I personally love it. It's very hippie-dippie, Penny Lane, 70's girl chic, (and we all know how much I love the 70s).
This particular faux fur jacket is a great transitional piece for fall into winter. I love the winter whites and this definitely goes into that category since it's pastel colored. It's totally unique and I've never seen any jacket like it.
I would consider it a daytime jacket that could be worn to brunch with the girls or a shopping trip with mom, or something along those lines. I wouldn't necessarily wear it out at night because I think it's too light and fluffy, it's not the sexiest of jackets if that makes sense.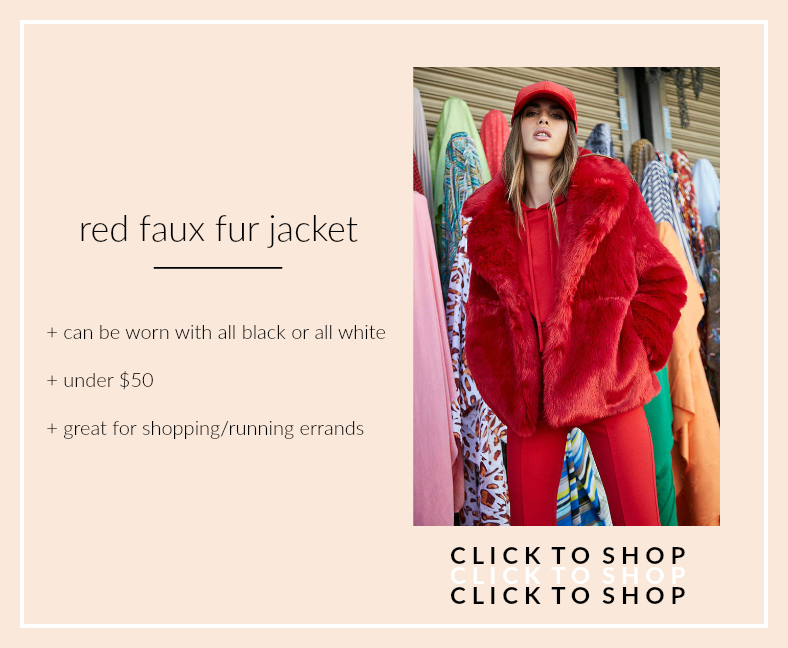 I've never received more compliments than I do on my red faux fur jacket. The jacket above isn't quite like the one I have (mines more of a crimson red), but I'm absolutely in love with this one. In fact, this jacket got the highest rating on Insastories.
Bright red jackets are super trendy this season, from the puffer to the faux furs, I'll be scooping up one very soon.
This jacket would look great paired with an all-black look or all-white look. When you pair bright red and white it reminds me of 90's hip-hop, very Biggie and Lil' Kim. The 90's are also making a comeback this season so you'd definitely be with the times with this red beauty.
I'm almost positive I have this exact leopard faux fur jacket that I bought last year. I love when retailers pay attention to the best sellers and try to recreate them again the following year, given they're still in style, in case you missed out the first time. Every fashionista needs a leopard faux fur jacket and so far I'd say this one is the winner.
It's long enough where it will keep your butt warm (yes, that's something to consider), but it's not too long where it looks like a robe. Leopard is just a classic, neutral pattern that will never go out of style so if you haven't invested in anything leopard yet, consider taking the leap with a faux fur leopard coat. You'll be the cat's meow!
Did I take it too far? Sorry, I'm the queen of corny jokes that aren't actually funny. Ask Patricio.
Which faux fur jacket is your fave? Tell me in the comments!
xx
shop the look